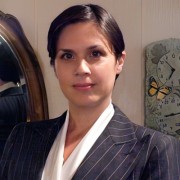 Erin Markham bio
Erin Markham was born on February 27, 1993, to Stephen and Emily Markham in Natchez, Mississippi. Stephen came from a wealthy family that traced their roots in Natchez back to the early 1800s, and he made his living as a money manager and financial advisor to many of the Natchez elite. Emily concentrated on raising her large family of Erin and her three brothers and two sisters.
Stephen Markham was a dedicated, determined man. Not content to rely on his family wealth, he was obsessed with building his own fortune, working 12-hour days and never taking a vacation.
Predictably, some of the Markham children inherited their father's drive while others rebelled into rehab clinics and legal troubles. "Half of 'em, they're real tough kids, real hard-working," said Natchez police officer Robert Lattimore. "But the other half, they ain't worth a damn. Always in trouble, doing drugs, drinking, you name it."
Erin was one of the ambitious Markham children, and her school records reflect perfect attendance and a near-perfect GPA. Her teachers recall that she spent long hours on her homework and her extracurricular activities. In high school, she was popular, but few students felt they truly were friends with her.
Erin dated occasionally, usually going out with the scions of the Natchez elite, but she never got involved seriously with anyone.
After graduation, Erin studied business at the University of Mississippi, where she continued her record of near-perfect grades and busy extracurricular schedule. She began taking graduate-level courses while still an undergrad and finished her M.B.A. within 18 months of earning her undergraduate diploma.
After completing her master's studies, Erin accepted a position with the prestigious consulting firm McKinsey & Company. She spent the next several years traveling to client sites all over the world. She purchased a house in the Whitehall neighborhood in Oxford as an investment — one of several properties she bought around the country.
After working at McKinsey for three years, she resigned and moved back to Oxford and into her Whitehall home. "Most of those consultants don't last very long. It's just too demanding, even for the most passionate people," said industry observer Leo Chung. "McKinsey folks usually get in, make a ton of money, and then get out in a couple of years."
Since then, Erin has built her own private consulting firm, focusing on providing mentoring to start-up companies around the Southeast. Her services are in high demand, and she works from her home office, traveling to client sites only when absolutely necessary.
Around the neighborhood, she is known to maintain a meticulous property. "She doesn't so much as live there as she appreciates there," said neighbor Rebecca Hall. "She's obsessed with resale value. If there are violets in the flower bed, you can be sure it's because she thinks it adds to the value of her home, not because she actually likes them."
---