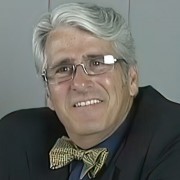 Dwight Kramer bio
Dwight Kramer was born to Danny and Kristie Kramer on July 1, 1965. Dwight was the middle of three children, and although his parents came from Benoit, Mississippi, Dwight has always lived in Oxford.
Many of Dwight's teachers described him as a boy who couldn't wait to get home after school so he could put on a bow tie. They say he was a good kid but a deadly serious one who wasn't interested in playing as much as keeping tabs on the equipment or toys involved. When he announced his intention to run for class treasurer in sixth grade, nobody bothered to run against him, and he continued in the position until he graduated.
Dwight majored in accounting, but a love affair with a fellow student planning to be an actuary went badly, and Dwight switched to a hospital administration program.
Upon graduating, he landed a job at Baptist Memorial Hospital in Oxford and worked his way up to his present position of assistant administrator. Co-workers describe Dwight as a serious but efficient administrator.
In 2002, he started dating a nurse, Angela Doherty, and the couple married three years after they met. A year later, they welcomed their first child, Daniel. When Daniel was two, his sister, Alice, joined the family.
The Kramers attend the same church Dwight has been going to since he was a child and live less than five miles from Dwight's parents.
---