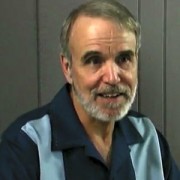 Kenneth Lemmons bio
Kenneth Lemmons was born on August 14, 1968, to Donald and Beverly Lemmons at Baptist Memorial Hospital in Oxford. After the customary stay in the hospital, the family went home to Batesville, Mississippi. Kenneth was an only child and the apple of his father's eye.
Beverly was a realtor and spent a lot of time working. Donald Lemmons was a truck driver and took Kenneth with him sometimes. Kenneth loved it and would come home full of news about what he had seen and done. At an early age, he knew he wanted to be just like his daddy. Kenneth learned how to drive trucks and knew how to take care of them from his father.
In school, Kenneth was an average student because his mind was always on the weekends and traveling around with his dad. When he was ten years old, he started working every evening after school at odd jobs. His father had taught him a good work ethic, and he was very dependable.
When Kenneth graduated from South Panola High School, he learned about an opening for a truck driver at Barnabas Trucking in Oxford. He applied and got the job. He commuted every day between Batesville and Oxford, where he met Danielle Thompkins at Proud Larry's restaurant. They agreed fate had brought them together, and after a yearlong courtship, they married on January 15, 2011.
Eleven months ago, while Kenneth was unloading a pallet, his back seized up, and he fell to the ground. He has been in excruciating pain and under a doctor's care ever since. He used up his sick time and filed a disability claim.
Danielle worked for the State of Mississippi. Kenneth constantly worried that if something happened to Danielle, they'd be in deep financial trouble because they were slowly running out of savings. One afternoon, Kenneth was watching a talk show on TV, and one of the doctors on the show said women over 50 should have a colonoscopy. Despite Danielle's reluctance, he convinced her to have it done.
Dr. Veronica Smith was a specialist in gastroenterology, and the procedure was set up at Baptist Memorial Hospital. During the procedure, Dr. Smith accidentally perforated Danielle's bowel and an infection set in. Danielle died the next day.
Kenneth filed complaints with the medical board against Dr. Smith and the hospital. He also sued Dr. Smith, her medical practice, and the hospital for malpractice.
Kenneth is still unemployed.
---