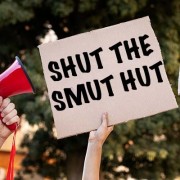 Protester canvass
YOKNAPATAWPHA COUNTY SHERIFF'S DEPARTMENT
Investigating Officer(s): Det. T. Armstrong, Det. S. Murphy
Incident No.: 005299-18J-2023
Case Description: Hoyt Biffle death investigation
Yoknapatawpha County Sheriff's Department investigators canvassed members of Concerned Oxford Parents (COP) who participated in demonstrations outside of the Under Glass residence on the day Hoyt Biffle.
Participants were questioned about what they saw or heard in the area that day.
The interviews summarized are some of the most typical or relevant to the investigation and are representative of all interviews conducted.
---
---