Under Glass under scrutiny
OXFORD WEEKLY PLANET
Saturday, October 1, 2022
Under Glass under scrutiny
Community group pushes to stop Oxford's newest experiment in reality entertainment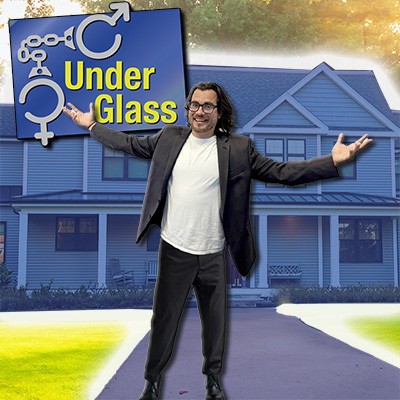 It's midday, and Graham Newcastle is munching on a second granola bar, waiting for a hint of movement from the residence he's been picketing. And he's not alone. Members of the Concerned Oxford Parents (COP) community group, twenty-three members strong on this day, have been waging a moral battle against Under Glass, an adult reality entertainment venue in the form of a typical Oxford home, for more than a year.
"Here she comes!" screams Newcastle as one of Under Glass's starlets, Tanya Ryder, emerges from the house. "Right on schedule!"
The protesters jeer Ryder as she walks casually through their throng. She stops briefly in their midst to blow sarcastic kisses, followed by a two-handed volley of middle fingers. Clearly, this test of wills had occurred before and likely would continue into the future.
"Now you see what kind of person we are up against," says protester Preston Vance, "one that relishes sin so much, she puts the Devil to shame."
When Under Glass proprietor Hoyt Biffle began his business in August 2021, he knew there would be controversy. Biffle, a former computer systems analyst for a major technology firm in Texas, picked quaint Oxford for the entrepreneurial marriage of his tech savvy and the South's voracious appetite for reality television.
Such a business plan typically would have gone unnoticed, but Biffle was determined to add a "touch of spice," in his words, by fully incorporating nudity, sexual activity, and adult situations into the reality entertainment mix.
"I knew I couldn't really do a typical version of Big Brother without getting sued six ways from Sunday," says Biffle, "so I got the idea that we could do our own social experiment where we take college kids, give them enough money and a house to live decadently for their age group—all on the condition that I can record and stream on the internet any and all parts of their lives from showering in the morning to their wild parties at night."
To those ends, Biffle purchased property in Oxford with an existing house and had it rewired with state-of-the-art technology, cameras, and microphones. Every room was wired for video and sound, including the bedrooms and bathrooms. He christened his new pleasure panopticon "Under Glass: The Study of Generation Z in the Real," and now he had to find the young people to fill it.
Biffle had picked Oxford for one reason: Ole Miss.
"So if I was going to make this social experiment happen, obviously, I'd have to have a college close by so I can get my hotties. A man don't go fishing in a desert," Biffle explained, "Sure, it pissed some folks off, but, frankly, my detractors make for damn good advertisement. The loud and free kind. No businessman can argue with that."
But Concerned Oxford Parents can. The group's president, Ben Morgan, has led the charge to remove Biffle's establishment from Oxford.
Early on, Morgan attempted to contest Biffle's zoning permits. However, the city board could not find a regulatory requirement that Biffle had overlooked, so they allowed him to proceed with construction.
Morgan then petitioned the board for the closure of Under Glass under Oxford's public nudity ordinance. That petition was rejected because they did not find the situation germane to that law.
Undeterred, Morgan immediately organized COP's pickets and propaganda against Biffle.
"He has to understand that an enterprise of this type cannot and will not succeed in Yoknapatawpha County. We will not stand for it," Morgan said. "Not only is Biffle's house of smut mired in perversity that even Caligula would tip his laurels to, but it also treats women as objects to be studied, like bacteria in a petri dish."
Biffle remains unconcerned. "Women as objects, please. Morgan knows that our social experiment has also included guys. That's where I got him by the short hairs—his wife is probably spending all her time in front of the computer watching my young stud Wyatt in the shower—women like her will never let us shut down. He can protest all he wants in the meantime. Good ol' Benji knows he doesn't measure up to Wyatt."
The standoff between the two parties shows no sign of abating. "We have a duty to our children and our God to stop predators like Biffle from preying on the innocent and spreading his filth across Yoknapatawpha," says Morgan. "As long as I draw breath, I'll be here, making this man's life a living hell."
Biffle scoffs at the notion. "If this is hell, I'm loving it much better than Benji will love his heaven. If there is such a thing. Which I highly doubt."
By Joanne Ebner at 12:00 PM
---