More human remains found
OXFORD WEEKLY PLANET
Monday, February 24, 2020
More body parts found in surrounding counties
Are they related to the head found in Taylor?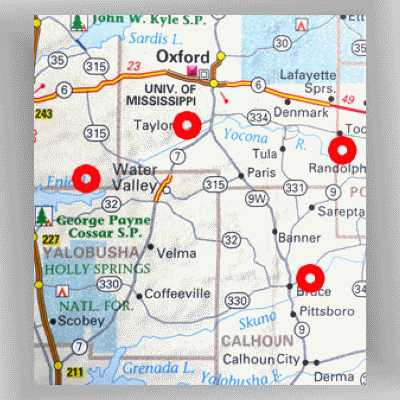 Following on the (ahem) heels of the discovery of a severed head in Taylor on February 22, the Yoknapatawpha County Sheriff's Department confirmed today that four more body parts have been discovered in adjoining counties.
Sheriff's Public Information Officer Elizabeth Jones said the body parts were found over the last several weeks.
On January 30, a severed arm was found in a gravel pit in Toccopola in Pontotoc County, east of Oxford.
Twelve days later and 45 miles west, another arm was discovered in Enid Lake between Batesville and Water Valley in Panola County.
Two feet were found 24 miles south-southwest of the Toccopola location and 55 miles southeast of the Batesville location in a Bruce cotton field in Calhoun County.
The feet were found on February 18, just four days before the severed head was discovered near a possible ritual site in Taylor.
Locals shocked
Trevor Gibson, who found the arm in Enid Lake while on his lunch break, was understandably disturbed after making the discovery.
"At first, I thought it was a big snake," the 52-year-old described. "It wasn't moving, so I thought it was dead. I went up to it, and then it was pretty clear that it wasn't no snake. I said to myself, 'Why, that's some fella's arm there.'"
While the YCSD has not publicly confirmed the gender of the head found in Taylor, Jones said the other body parts are believed to be from one or more females.
Jones said that DNA tests are being conducted to determine whether a link exists between any of the body parts.
Serial killer?
While some people have wondered whether these gruesome discoveries are indications that a serial killer is at work in North Mississippi, law enforcement officials across all the involved jurisdictions discount the suggestion.
"If you ask me, this is the work of one sick individual," said Pontotoc County sheriff J. A. Drexel. "Serial killers are for movies and television. We don't have that kind of thing around here."
Sheriff Drexel said no evidence of occult activity was found at the Toccopola scene nor, to his knowledge, at the scenes in Panola and Calhoun counties.
If Sheriff Drexel is correct, what does that say about the rumored evidence of voodoo rituals found in Taylor?
By Kemper Jones at 10:00 AM
---