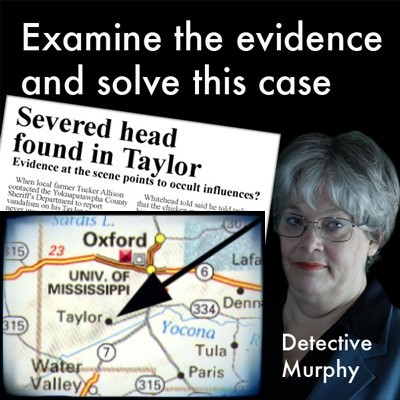 What happened?
The Yoknapatawpha County Sheriff's Department is investigating the discovery of a human head inside a bucket found in a wooded area in Taylor, Mississippi.
Local children happened upon a nearby vandalism scene on Saturday, February 22, 2020. That discovery led law enforcement to the secondary scene where the human remains were found.
The deceased has not yet been identified. The investigation into who the victim is and the location of the remainder of the body is ongoing at this time.
Help investigate the case
The Blood Bane case documents are presented in reverse chronological order in the Case Files.
Click the Evidence, Interview, Biography, or Press tag at the top of the Case Files page to filter by document type.
Click the Day tags at the top of the Case Files page to filter case documents by the day they happened in the investigation.
Want more info? Check out the Crime Scene FAQ
Where do you start?
If this is your first look at the investigation, you may want to start with the Case Recap or one of these case documents:
Want access to all of the case documents as soon as they're available? Become a Case Detective today.