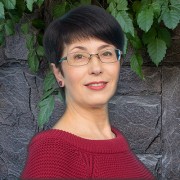 Erma Webb bio
Erma Loraine Webb was born July 4, 1968, in a missionary hospital in Africa to the Reverend Thomas and Mrs. Adelaide Webb. Erma's first 10 years were spent living and being schooled with the children of the little African village that housed her father's mission.
In her 11th year, the family returned to the USA and a small town in Kansas. Erma found she missed living in the African village where she'd been treated with the respect and dignity befitting a pastor's child. Erma was used to being a person of authority and expected her requests to be recognized and granted.
When she realized all people were not going to bow to her wishes, instead of backing off, she became even more assertive. In spite of her demanding ways, she loved teaching, and when not in school, gathered all the younger neighborhood children to play school. Not surprisingly, she was always the teacher—never a student.
All during her high school and college years, Erma became accustomed to being unpopular but never thought to change her demanding way. She was a loner, so she kept focused on her schoolwork to acquire her degree and teaching credential.
Upon graduation from college, she served in her church missionary project, teaching migrant workers in the South. In 1996, an opportunity opened to serve on Molokai, Hawaii teaching and ministering to migrant workers and their families. In an un-Erma-like impetuous moment, she applied and was accepted. The 27-year-old looked forward with excitement to her move to Hawaii the following year.
Soon after her arrival on Molokai, Erma met one of the adult migrant workers, Chun Aquino. The handsome, charming, young Filipino asked her to help him improve his reading and writing skills. Erma was so impressed by the young man's desire to better himself, she gladly scheduled evening tutoring sessions. The learning sessions soon stretched into long walks on the beach and watching the sunsets. Erma was surprised to find herself hopelessly in love.
It wasn't long before Erma learned she was pregnant. She did not tell Chun. She feared his reaction and thought she might lose him. At the end of the season on Molokai, Chun left the island, and she never saw or heard from him again. Erma was resigned to being alone to raise her child. Any other alternative never entered her head.
The child, Rachel, was born in Honolulu. Mother and daughter remained in the islands. Erma resumed her teaching and went wherever she was most needed.
In 2007, Erma was called to serve in an outreach program in the Mississippi Delta. She and Rachel moved to Clarksdale and have lived in Mississippi ever since.
Erma has never swerved from what she saw as her real mission in life: to see that her daughter had the chances she'd never had. She managed everything about Rachel's life and pageant career. Her way was always the only way. She tolerated no deviance from what she dictated to Rachel. She told her daughter what to eat and what to do—as well as when and why.
Erma said many times that she would do whatever it took for Rachel to win the Yoknapatawpha Literature Festival Beauty Pageant, and she expected the same of Rachel.
---