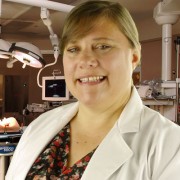 Veronica Sherman was born to James and Margaret Sherman on September 10, 1979, in Grenada, Mississippi. She was welcomed home by an older sister, Elizabeth. James was a teacher, and Margaret was an accountant at the local bank.
Veronica had many childhood friends, but she didn't get along well with her sister. Veronica excelled in everything she attempted, and she was consistently at the top of her class. Elizabeth had always been envious of all the attention Veronica received.
During their school years, their parents had parties for Veronica and her friends, and also took them on their vacation trips each summer. Even though Elizabeth took her friends too, she kept her group separate from Veronica's. This practice of the sisters' keeping each other at arm's length has never changed.
After Veronica graduated from Grenada High School at the top of her class in 1997, she decided to go into medicine. Veronica earned her Bachelor's Degree in Science at the University of Mississippi in 2001. She went on to get her medical degree from the Ole Miss Medical School in Jackson, Mississippi, including her three-year residency in 2007.
While in medical school in Jackson, she began dating Wallace Smith. They married on August 8, 2007, and their daughter, Haley, was born on January 10, 2008.
Veronica divorced him later that same year. Wallace barely eked through medical school with help from his wife, and when he began coming home intoxicated and wanting to fight with her, she'd had enough. She told friends he had given up on pursuing the profession he'd planned on. Wallace just didn't have what it took to succeed, and she had a child and a career to think about.
In the wake of her decision to leave Wallace, she devoted all her energy to raising her daughter and studying. After taking some time off from her medical studies to care for her newborn, Veronica moved to Miami, Florida, for a Fellowship in Gastroenterology at Jackson Memorial Hospital.
In 2011, she began dating Michael O'Connor who she met in Miami. After they'd been seeing each other for several months, Michael brought Veronica home to meet his family in Oxford, Mississippi. While they were there, Veronica met Michael's brother George, and there was an immediate attraction for both of them.
Veronica dropped Michael, and she and George married on May 5, 2012, shortly after she finished her fellowship and relocated with Haley to Oxford. After seeing how devoted George and Haley had become to each other, Veronica filed a petition to terminate Wallace's parental rights so George could adopt Haley, but Wallace was adamant about not ever allowing that to happen.
After moving to Oxford with George as husband and wife, Veronica opened her own medical practice, Yoknapatawpha Gastroenterology Center, with her two partners, Dr. Hilton Burns and Dr. James Mendoza. She was well-respected as a physician, but people sometimes found her brusque and demanding at work.
She had always been an overachiever and pushed herself to accomplish her goals. She kept fit by training for marathons and had participated in several over the years, including most recently the University of Mississippi's Rebel Spirit marathon in Oxford in April 2017.
Last year, while performing a colonoscopy on patient Danielle Lemmons, the bowel was accidentally perforated, and within 24 hours Mrs. Lemmons became septic and died. Mrs. Lemmons' husband, Kenneth, filed complaints against Dr. Smith with the hospital and the medical boards and also filed a malpractice suit against Dr. Smith's medical practice, the hospital and Dr. Smith personally.
Dr. Smith was found dead in her home on January 12, 2018. Cause of death has not been determined.
---
$ 30.00 – $ 33.00 Jackets feature a detective shield printed in white on the front and FORENSICS in large white type on the back. Shop Now

$ 25.00 $ 16.00 A wall chart illustrating common fingerprint comparison characteristics. Shipped in a protective cardboard tube. Shop Now

$ 8.00 Contains 2 of each size paper and plastic bags (large, medium and small.) Use for real evidence or fun. Shop Now

$ 8.00 $ 7.00 This sturdy, bright yellow lanyard printed on both sides with "CRIME SCENE DO NOT CROSS" in black letters. Shop Now

$ 4.50 – $ 150.00 The standard FBI fingerprint card, form No. FD-258 version: 11-1-20 used for noncriminal fingerprinting Shop Now

$ 25.00 $ 22.00 Create a professional crime scene sketch quickly. Shop Now

$ 44.00 A real print kit, fully stocked with instructions and enough supplies for at least 50 different print lifts. Shop Now

$ 44- 54 explores a different crime scene processing technique each month. Shop Now

$ 75.00 $ 60.00 Examine the evidence to solve a murder. Dust evidence for prints & test fabric for the presence of blood. Shop Now