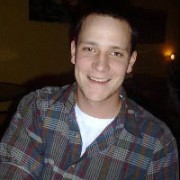 Kevin Travers bio
Kevin Travers was born to Bill and Linda Travers on June 2, 1972. The young family lived in Pontotoc, Mississippi, where Bill taught history and Linda taught art at the local high school. From an early age, Kevin showed interest in many different types of art. He excelled at painting and drawing in art classes in elementary school and junior high.
In high school, Kevin began working on the school newspaper. While on the newspaper staff, he began taking pictures and working in the school's darkroom. Although he often had to share the darkroom with the janitor's mop bucket, Kevin was fascinated by the process with which he could bring images to life. He loved to take photographs and watch the exposures show up in his buckets of chemicals.
In the fall of 1991, Kevin enrolled at the University of Mississippi in Oxford. Majoring in art, Kevin was often seen around campus with his camera, snapping pictures of the trees in the Grove, students on their way to class, and the architecture of the Barnard Observatory.
His four years at Ole Miss were quiet for Kevin. Somewhat shy and reserved, Kevin rarely ventured into the large fraternity parties or the bars on the Square. He often asked girls out on dates, but they rarely accepted, thinking he was too timid. Too nice. He dated a little and had a few tepid relationships with girls, but for the most part, he filled his days with his camera.
When he graduated, Kevin decided to remain in Oxford. He liked the artsy community and felt at home there, or at least as much at home as he would anywhere. Over the years, he had developed friendships with the painters, poets, and writers that made Oxford home, and Kevin felt he could become part of that art community. Plus, staying in Oxford allowed him to work on his Master of Fine Arts degree when he had the money to pay for classes.
Although his parents had always encouraged Kevin's artistic ambitions, they were dismayed when he told them he was not going to get a "real" job. However, to their surprise, Kevin managed to survive by taking family portraits and occasionally selling a piece in some of the local art galleries.
It had been several months since Kevin's last date when Missy Hammond moved next door to him. He welcomed her to the neighborhood and was instantly smitten with the pretty young mother. He often dropped by "just to see how she was doing." Finally, Missy told him he had to call before he came over.
And, no matter how many hints he gave, Missy never seemed to notice him as anything more than just a nice neighbor. She often called on him for help with Liddie, but she never seemed receptive to his suggestions for a date.
Instead, she spent her time with drug users and alcoholics, and Kevin often seethed with anger and frustration when he would hear one of her "dates" pull up and honk the horn for Missy to hurry up. He heard their fights, their arguments, their screaming, and could not understand why Missy was attracted to such turmoil.
He often stood on his porch at night, staring at Missy's house, wondering why she couldn't see how much he wanted to protect her, why she wouldn't let him take care of her and Liddie.
---