Beatrice Carmichael bio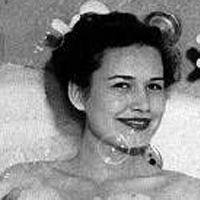 Beatrice Marie Carmichael was born on December 4, 1923, to Norman and Maud Carmichael of New Orleans, Louisiana. A twin sister, Opal, was delivered at the same time but was stillborn.
Beatrice grew up as the only child in the Carmichaels' home. Her parents were theater people, fun loving, high-spirited and usually broke. They loved, spoiled and protected Bea but gave her little guidance. She grew up backstage with little formal education, used to staying up late at supper clubs and theater parties.
Baby Bea may not have had many friends her age to play with, but she had scores of "aunts" and "uncles" who were lavish with their attention and little gifts.
When her parents both died in a flu epidemic in 1939, Beatrice was unprepared for the responsibilities and freedom of a 16‑year‑old young woman on her own. Her parents had a small insurance policy that enabled her to rent an apartment, but it left little else to support a girl used to being the center of attention.
Her parents did not appoint a guardian for her. A close friend of her father, Sterling Lacroix, stepped into the role, though he may have had ulterior motives.
Owner of the famed and popular Bourbon Street Gentleman's Club, the wealthy Lacroix moved Beatrice into his home and gave her a job first as a hatcheck girl, then as a hostess. By her 17th birthday, the pretty, vivacious and ever‑popular Bea was the club's top dancer and biggest draw. On her 18th birthday, she married Lacroix. The union was short-lived.
On December 18th, 1941, Jake Livingston was visiting New Orleans and stopped into the Bourbon Street Gentleman's Club to see the talented Bea for himself. It was love at first sight for Bea. By the end of the weekend, Bea had packed her bags and pledged to follow Jake wherever he wanted.
Jake was another man with an ulterior motive. While Bea looked at Jake and saw true, undying love, Jake saw in Bea a gold mine.
She left New Orleans in the middle of the night and traveled with Jake to Maryland where his family owned the infamous Pink Slipper Club on Baltimore's Block. Throughout World War II, the Block was the preeminent East Coast Red Light and Burlesque District, raking in big money from sailors and soldiers on leave.
Bea's brief two‑week marriage to Lacroix was quietly annulled, and Bea became the star and darling of Burlesque in the East. Romance did not last between Jake and Bea, but they remained fast friends.
In 1944, Jake met film agent Oliver Carlson and introduced him to Bea. As the other men in her life did before him, Carlson saw dollar signs, convinced that Bea was destined for the silver screen.
Though she screen‑tested for a number of roles, Bea's biggest claim to fame was as the Bubbles Girl promoting Proctor and Gamble bath soaps. Pictured is one of the early photo sessions for print advertising.
By mid‑1948, Bea found that once again her relationship with Carlson was not destined to be. She was alone and broke in California, unable to find a decent job, and disillusioned with her dream of being a movie star.
She wrote to her great aunt Molly Lawson in Oxford, Mississippi, asking to stay with her. Aunt Molly agreed, so Bea moved to Oxford and went to work at the Jefferson Florist Shop.
Molly Lawson died in 1951 and left a small inheritance to her great niece. Bea had ambitions to start her own nursery and florist business and began saving for her goal with this windfall.
Bea's dating life was busy. As had always been the case, she attracted attention. In the tiny town of Oxford when that attention included a few married men, she scandalized friends of her late aunt Molly.
Bea was considerably tougher and less lighthearted by the time she hooked up with local factory worker Howard Hadley in 1953. He was married, but that didn't faze Bea. Howard had the biggest muscles she'd ever seen, and she loved the way he would growl at her and tease her. She knew he could be brutal, drank too much, and had a bad marriage, but he kept that away from her. With Bea, he was gentle.
She stopped seeing other men during the years that Howard was part of her life. When his wife died in childbirth in July 1955, Biddy hoped that she might get married at last. But that relationship was yet another in her life not meant to be. Howard kept putting her off, and then when he lost his job with the Bowlan Glove Factory in 1958, it was out of the question.
Howard eventually left his three‑year‑old daughter, Doris, behind with Bea in Oxford. He moved to Detroit, looking for a higher-paying job with promises of marriage and family life.
It finally dawned on Bea that he had no intention of keeping this promise. She turned her attention to starting her own business, buying out Jefferson Florist Shop in May 1959.
Doris went to live with her father in Detroit in August of that year, and Bea went on with her life. She started Carmichael's Nursery in 1961, which still thrives between Oxford and Abbeville.
The income from her business enabled Biddy to have a comfortable life. A permanent relationship remained elusive, and she never married. Years of her own drinking, smoking and hard living left her with a weak heart. She retired and sold her business at age 70.
Beatrice Carmichael died of heart failure at her home on May 31, 1998.