The Juke Joint 1987 staff re-canvass (2011)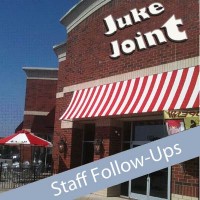 Investigators tracked down as many of Kevin Gilmore's co-workers at The Juke Joint as could be located and spoke to them about what they remembered about Kevin Gilmore.
The interviews summarized are some of the most typical or relevant to the investigation and are representative of all interviews conducted.
---
James Mason
Age / Position: 69 / retired, former owner of The Juke Joint
Address: 383 Longest Road, Oxford MS
Comments: Mr. Mason said he is now retired and spends time with his wife traveling. He no longer owns The Juke Joint.
He sold the business to Rhonda Pendergrass in 1988. He was tired of the restaurant business, so when the sales opportunity presented itself he took it.
He and his wife opened up a floral business. It was something he'd always wanted to do, and they made a good success of it.
He said Rhonda told him she inherited a large sum of money from a relative and used it to buy The Juke Joint. He said Rhonda made a few good changes to the place and worked hard to make it a success.
He said during the first year after Kevin's death, he and his employees discussed the case quite often, but no one had any idea who would want to kill him. He heard rumors that Kevin may have gone out to the pot farm to steal pot for his personal use, but he never believed those stories.
He said it was hard to remember back to 1987, but he'd give it a try. The last time he saw Kevin was at work on Thursday the 10th. Mason said Kevin was scheduled for 9:00 PM and was on time as usual. It was a busy night, but nothing unusual happened.
Mason was at home on Sunday when he learned of Kevin's death. He said he told the detectives everything he knew at the time, and he still doesn't have a clue to who killed Kevin.