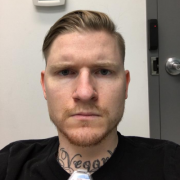 Blake Jenson was born to Joy Elaine Jenson on November 28, 1996. Joy was 17 years old when she got pregnant, and neither she nor the baby's teenage father, Steven Hall, wanted to be tied down with a baby. Joy's parents, Luther and Agnes, persuaded Joy to have the baby and let them adopt it. Luther promised Joy he would pay for her college or supply her with enough cash to set herself up anywhere she wanted after the baby was born.
Blake entered the world weighing 9 lbs and 6 ounces, and the next day, his grandparents took him home as their son. Joy opted for the cash instead of college, and as soon as she was released from the hospital, she went home and packed her bags, and the Jensons haven't heard from her since.
Blake was a delightful child, and Agnes doted on him. She sang to him constantly, and as soon as he was old enough, he sang along with her, showing off his beautiful natural singing voice.
As charming as his personality was, Blake wasn't perfect. He was a messy child. It was always obvious which room Blake had just left by the disarray he left behind, and you could tell what he had for lunch simply by looking at his shirt.
Luther spent a lot of time with Blake, often in his garage workshop where he always had music playing in the background. He taught Blake how to work with wood, how to maintain a lawn and how to do minor house repairs.
Blake learned to play guitar while in his early teens. At the age of 16, he and his best friend, Kent Erdell, decided to start a band. Eventually, Luther gave Blake his garage to use as a rehearsal space because it was far enough away from the main house that he didn't have to hear the practices.
For Blake's 18th birthday, he was allowed to move into his grandparents' guesthouse, which had been stocked with the video games he loved. The recreation room soon became a favorite place for Blake and his friends to hang out.
Over the years, Blake had several girlfriends but was never really serious about any until Madison Spires. When she auditioned to play keyboard and sing backup for the band, Kent and Blake accepted her immediately and welcomed her to their band, Random Deeds. Blake and Madison started dating two weeks later. He said they were meant to be together and he was going to marry her someday.
In addition to playing with his band, Blake was also an engineering student at the University of Mississippi. He also looked after his grandparents' house when they were staying at their second home in Texas.
In his free time, Blake loved playing video games and particularly enjoyed Guitar Hero. He was undefeated at the game and dreamed of getting into the Guinness World Records for his expertise.
---