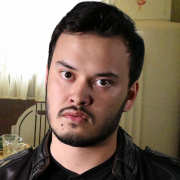 Frederick Wallace was born to Theodore and Cera Wallace on September 21, 1995.
Ted worked in construction and wasn't home much when Fred was growing up. After Cera's maternity leave was over, she placed Fred in the First Baptist Church Childcare Center. He was there Monday through Friday from the time he was eight weeks old until he started school. Cera worked five days a week as a therapist at the Oxford Orthopaedic and Sports Medicine Center, so she only saw Fred a couple of hours a night and on weekends.
The daycare center wouldn't allow the children to attend if they had a fever so every once in awhile Cera would have to take Fred with her to work. It wasn't ideal, but Fred didn't talk to anyone and kept to himself, so he didn't bother her patients or co-workers.
On one of these occasions, Cera was working with a patient whose hand was crushed in an accident. This patient noticed that Fred was full of energy and was tapping on everything he saw. He had seen Fred before and knew the child was reserved but in constant motion. The patient told Cera he had a set of drums that he would like to give to Fred because he would never be able to play them again.
The next time Ted was home, he picked up the drum set from the patient, brought it home, and put it in the basement. Fred banged on those drums every day after school. When he was 10, he went to the library and got books about learning how to play drums.
Fred is an only child and has never been particularly close to either of his parents because they're away from home so much. In school, his grades were below average, and he only had a few friends. Once classes were over, he preferred to spend his time on activities away from school. He was caught shoplifting twice before he was 14.
During his high school years, he spent most of his spare time playing video games on his computer or drinking with his casual friends. He became known around his neighborhood as a troublemaker.
After high school, his parents told him they weren't going to support him while he played video games all day and he had to get a job. Fred didn't want to do manual labor, so he posted an ad online that he was a drummer looking for a local band. He was hired to play with the band called "Simple Conquests," and they dubbed him "Stix." He has been with them for five years.
He went to Blake Jenson's house on December 2nd to beat him at Guitar Hero.
---