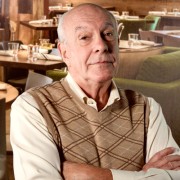 Luther Jenson bio
Luther Jenson, born on August 1, 1951, was the only son of Daniel and Margaret Jenson. Daniel was the sole owner of Jenson's Tax and Accounting Service, and Margaret was his office administrator.
The Jensons also purchased and flipped foreclosed properties, and over the years that helped them accumulate a substantial amount of money.
After graduating from high school, Luther attended the University of Mississippi where he majored in accounting. Midway through Luther's junior year at Ole Miss, his father died of a heart attack. Daniel had made sure he had enough life insurance that his wife would never have to worry after his death, and he did the same for his son.
Luther received a large inheritance, dropped out of college, and began earning money flipping properties. He'd learned a lot watching his father do business over the years, and Luther did very well for himself despite his youth. With no family of his own to support, Luther used his increasing disposable income to travel.
In 1975, Luther went on a cruise to the Bahamas, where he met the love of his life, Agnes Blakenship. Eight months later, the couple married. They bought a large house and began planning a family to fill it.
Their first and only child was born on January 21, 1978. They named her Joy Elaine. In early 1996, Joy informed Luther and Agnes that she was pregnant and wanted an abortion. Luther and Agnes urged Joy to carry the baby to term and let them raise it. She refused until Luther sweetened the offer by agreeing to help her out financially after the baby's birth.
The legal papers were drawn up, and the baby was born on November 28, 1996. Luther and Agnes named him Blake after Agnes' maiden name.
Once she had given birth, Joy left town and cut ties with Luther and Agnes. While Agnes cried for months over the daughter she had lost, Luther focused on his business and his grandson.
---