Stage manager dies
OXFORD WEEKLY PLANET
Thursday, October 28, 2021
Stage manager dies during rehearsal
One dead, one sent to the hospital in immersive theatrical zombie experience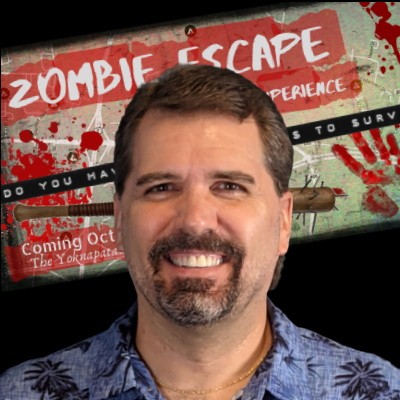 Yoknapatapwha Players stage manager Scott Bryant
The Yoknapatawpha Players' immersive play "Zombie Escape" was canceled indefinitely last night, according to theater board member and major benefactor Cherie Atkinson. Following an incident that led to the death of stage manager Scott Bryant, Atkinson announced that the theater would not pursue further immersive projects.
The incident happened sometime during last night's final dress rehearsal at a warehouse space in east Yoknapatawpha County that the troupe leased specifically for their immersive projects. Bryant's body was discovered underneath a section of the set.
Atkinson spoke to the press late last night outside the Yoknapatawpha County Sheriff's Department after her interview with detectives. Asked about the condition of another troupe member who was transported to the hospital, Atkinson replied, "I have no information, so no comment."
Speaking at a press conference this morning, Elizabeth Jones, Public Information Officer for the YCSD, said there did not appear to be foul play involved in Bryant's death, but the YCSD is investigating.
Jones added that one person was transported to the hospital, where they were treated and later released. Asked if the two incidents were connected, Jones said, "At this time, they appear to be unrelated."
The theater's Artistic Director Anna Kessler explained that immersive theater brings the audience into the action. Instead of passively watching a play, each audience member is actively involved in the performance. Kessler said the zombie apocalypse script is the first of what she hopes will be many interactive productions.
Kessler expressed her deepest condolences on behalf of the theater troupe and its Board of Directors regarding Bryant's death. "Scott will be deeply missed. He was a consummate professional and a vital member of our staff. We are shocked and saddened by this horrific tragedy."
Kessler said the Yoknapatawpha Players' warehouse space would remain closed until the sheriff's department completes its on-site investigation.
When asked to comment on Atkinson's claim that the zombie project was, indeed, dead, Kessler replied, "With all due respect, what's gone is the traditional model of live theatrical entertainment. The immersive project got a majority vote from those very forward-thinking board members of the Yoknapatawpha Players."
Kessler claimed the theater would move forward with performances of the immersive zombie show as soon as possible and promised to make a public announcement when the reopening is scheduled.
A person associated with the production, who asked to remain anonymous, confirmed the discordant relationship between Atkinson and Kessler. The witness remarked that Atkinson never supported Kessler's immersive project, so it was no surprise that Atkinson unilaterally announced its end.
Historically, the Yoknapatawpha Players have performed more traditional American plays at the 150-seat proscenium theater space near downtown Oxford. The immersive play was the troupe's first attempt at non-traditional theater.
In addition to Kessler, notable troupe members include actor, board member, and audience favorite Martin Vargas; long-time company member Janet Weber; and resident playwright Denis Goodman.
Board members include Atkinson, widow of beloved benefactor Glenn Atkinson, Dr. Ervin Cyr, local businessman Neal Caine, and Heath Rushing.
Check back for updates on this developing story.
By Kemper Jones at 9:00 AM
---