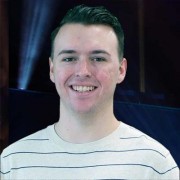 Denis Goodman bio
Denis Owen Goodman was born in Albuquerque, New Mexico, on February 3, 1992, into a large, noisy family. Denis was the youngest of six children, with three sisters and two brothers. Parents John and Roberta wanted at least ten kids, but the overwhelming reality of caring for them prompted John to get a vasectomy after Denis was conceived.
John was a phlebotomist at the Raymond G. Murphy VA Hospital, and Roberta worked at a neighborhood donut shop. The 4:00 a.m. to 10:00 a.m. shift allowed Roberta to be at home during the day to support her children and their schedules. More importantly, the solitude and meditative repetition of making donuts kept her sane.
Unlike his siblings, Denis was a quiet, introspective child. The high-energy clamor of the house was stressful, so he would retreat into a closet or under a bed for long periods of time. His easy-going nature made Denis a fun target for his siblings. They enjoyed baiting Denis, trying to launch him into what became known as his "beast mode."
Once Denis started school, he found that he actually enjoyed people who were not his siblings and became quite social. His popularity grew as he began directing reenactments of battle scenes from old films, such as "Gladiator."
These events garnered the nickname "Nerdstravaganza." Denis embraced it, used it as a marketing advantage, and began charging a participant fee. By the time he was in high school, Denis had quite a bit of money saved, and Nerdstravaganza had no shortage of enthusiastic participants.
Denis was an average student but excelled at creative writing. He spun fantastical stories of heroes' journeys, as well as simple, straightforward, truthful, captivating stories of love. As a junior in high school, Denis's English teacher encouraged him to enter a national youth ten-minute playwriting contest. Denis placed third, won a small cash prize, and was hooked.
Denis applied to a number of universities to study playwriting, was accepted into Northern Kentucky University, and, there, pursued a Bachelor of Fine Arts degree. He graduated in 2014 and began submitting plays to large, regional theaters, where he imagined he would be hired immediately. He was not. After numerous rejections over the next year, Denis explored other freelance writing opportunities.
In 2015, Denis traveled to Oxford to attend The Faulkner and Yoknapatawpha Conference. He was so prolifically creative while visiting Oxford that he decided to move to the area.
Denis makes his living as a writer, mainly by creating corporate training video scripts and selling articles to national magazines. His passion is playwriting, so he continues to write and submit plays for production.
Denis socializes with friends in a Society of Creative Anachronism group in Tupelo. Part of the Kingdom of Gleann Abhann, the Shire of Rook's Haven hosts classes in pre-17th-century living, fight training, and events, including dances, tournaments, and feasts. Denis is able to decompress in the company of like-minded friends, which is a welcome change from the solitude of his writing desk.
---