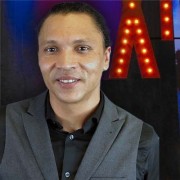 Woody Herron bio
Woodrow Wayne "Woody" Herron was born on March 12, 1987, in Columbus, Ohio, to proud Ohio State University alumni parents, Vickie and Randall. The couple was set to name the baby Arlen Walter as an homage to each grandfather. It was a planned pregnancy and would be the only child Vickie and Randall would have.
While driving to the hospital to give birth, news broke over the radio of the death of infamous OSU football coach Wayne Woodrow "Woody" Hayes. Vickie and Randall uncharacteristically took it as a sign and spontaneously decided to rename the baby after the iconic coach.
Both Randall and Vickie worked for the City of Columbus. Randall was a civil engineer, and Vickie was a data analyst. The couple made pragmatic, well-informed decisions and followed very specific schedules, including date nights and intimacy sessions. Life was planned. Finances were strictly budgeted.
Woody's personality leaned toward free-spirited. It was difficult for him to adjust to alarm bells sounding the arrival of naptime and feeding time. His parents' strict adherence to schedule and rigid belief in self-soothing eventually prevailed, and Woody became passive and well-trained.
Woody performed at a high academic level throughout school. His extracurricular activities were restricted to science, math, and football. Woody was a decent player but lacked passion and drive. Despite strong encouragement from his parents to continue playing, Woody quit football after graduating from high school.
OSU was Woody's only option for university studies. His parents had saved money since his birth to put toward his OSU education. He matriculated into OSU's College of Engineering in Fall 2005 and moved into a dorm on campus.
In his junior year, Woody's roommate, who was a theater major, asked for Woody's help with a stage management assignment. Woody took an immediate interest in stage management and enjoyed hanging out at rehearsals and assisting his roommate. For the first time, Woody felt drawn to something.
In 2009, Woody received a B.S. in Mechanical Engineering with a concentration in biomechanics. He took an entry-level job in the Public Works Department for the City of Columbus, where he spent two miserable years wondering why he became an engineer.
Summer 2011 was life-changing for Woody. A coworker mentioned that he was in a production of "Trojan Women" and was recruiting for the backstage crew. Woody volunteered and then spent the next few years working the summer productions at the Actors' Theatre of Columbus in various crew positions. Woody was hired as stage manager for the 2014 summer production, quit his engineering job, and began freelancing as a draughtsman to make ends meet.
In 2015, Woody discovered a job posting for an assistant stage manager position at a theatre in Oxford, Mississippi. He applied and was hired. Soon after his arrival, while walking his neighbor's dog "Buddy" on the South Campus Rail Trail, he met his current love, Sharon Whitehead.
Sharon and Woody have been together since. Woody supplements his stage management income by freelancing as a draughtsman for several local engineering firms.
---