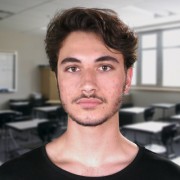 Mitch Freedman bio
Mitchell Gregory Freedman was born in Oxford, Mississippi, on January 3, 2003, to Margaret and John Freedman. When Mitch was just an infant, his father left his mother without any warning and was never heard from again. About a year later, Margaret met a man named Cole Weathers, and they got married shortly after that.
Cole had two sons from a previous marriage, both of whom were older than Mitch. Although Mitch's mother tried her best to intervene on his behalf when he was being picked on, he was often bullied and ostracized by his older step-brothers.
Mitch always enjoyed school and saw it as a respite from his stepbrothers. He had been a straight-A student until he started high school when his teachers began noticing a change in his personality. He started dressing differently and has been caught skipping school on several occasions.
His mother has also noticed this change in Mitch's personality but believes that it's just a phase, and he will grow out of it. However, she has been having difficulty getting Mitch to talk to her and isn't sure how to help him.
---
$ 75.00 $ 60.00 Examine the evidence to solve a murder. Dust evidence for prints & test fabric for the presence of blood. Shop Now

$ 25.00 $ 22.00 Create a professional crime scene sketch quickly. Shop Now

$ 25.00 $ 16.00 A wall chart illustrating common fingerprint comparison characteristics. Shipped in a protective cardboard tube. Shop Now

$ 4.50 – $ 150.00 The standard FBI fingerprint card, form No. FD-258 version: 11-1-20 used for noncriminal fingerprinting Shop Now

$ 25 Stocked with enough supplies to collect at least 25 prints. Shop Now

$ 8.00 $ 7.00 This sturdy, bright yellow lanyard printed on both sides with "CRIME SCENE DO NOT CROSS" in black letters. Shop Now

$ 8.00 Contains 2 of each size paper and plastic bags (large, medium and small.) Use for real evidence or fun. Shop Now

$ 44.00 A real print kit, fully stocked with instructions and enough supplies for at least 50 different print lifts. Shop Now

$ 17.50 The applicant card kit contains everything you need to collect five sets of fingerprints. Shop Now

$ 44- 54 explores a different crime scene processing technique each month. Shop Now

$ 30.00 – $ 33.00 Jackets feature a detective shield printed in white on the front and FORENSICS in large white type on the back. Shop Now