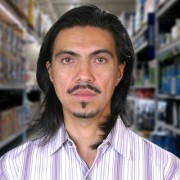 Greg Reis bio
Gregory Jacob Reis was born on December 10, 1977, to Victoria and Dr. Jake Reis in Tupelo, Mississippi. He was the youngest out of five children, and his parents were moderately affluent. He grew up in a large home just outside of the city.
He had a typical upbringing, and early school records show that he was an above-average student who stayed out of trouble. However, everything changed when his parents divorced during his junior year of high school.
School records show that his grades that year went from almost As and Bs down to Ds and Fs. He was written up numerous times for talking back to his teachers and was suspended for getting into a physical altercation with another student. He was placed on academic probation and was finally expelled when he set fire to one of the lockers during a football game. He never went back.
He moved from Tupelo to Oxford to live with his cousin and, after a year, got a place of his own. He did manage to get his GED after his first two years in Oxford and has taken numerous classes at the community college but has yet to receive a degree.
In Oxford, he's had many odd jobs, including house painting, landscaping, and, most recently, selling cars. His co-workers at Farrell Motors remarked that his sales were inconsistent and that his hard-sell tactics often backfired. Some of his fellow employees felt that his "cheesy smile" and outgoing personality were "all an act" and found him difficult to be around.
On June 7, 2018, he married Margaret Kramer, who works at one of the local retirement homes as a nurse. Their marriage lasted for only eight months, and they split due to Greg's infidelity and misuse of their joint bank account to cover his online poker habit. Margaret said that when she first met him, "I thought I had met my Prince Charming. He was so sweet and caring. Little did I know he was a dishonest creep."
Bad luck seems to follow Greg, who also appears to be something of a klutz. Over the years, he has filed a number of lawsuits against stores in Oxford for slip and fall incidents in large retail establishments like Home Depot and JC Penney. He's well-known to the security staff at all of these stores. When Greg comes in, they follow him to make sure he doesn't have any more mishaps. One Walmart asset protection specialist who attended to Greg after he fell in the sporting goods section said Greg "deserved an Oscar for the performance he put on."
His bad luck extends to the roadways, where Greg has been involved in several car accidents where he has made claims for soft tissue injuries whose severity can be difficult to quantify.
Since his divorce, Greg has been living in a small apartment, which he tells friends is just temporary until he finds "that special lady to share his life with."
---