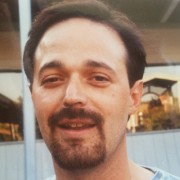 Devlin Beauchamp bio
Devlin Whitmore Beauchamp was born April 19, 1981, to Frederick "Beau" Beauchamp and Margaret "Margie" Vickers Beauchamp in Murfreesboro, Tennessee.
Devlin's father, a mortician, was killed in a single-car accident on June 24, 1981. Authorities were never able to determine the cause of the crash. Rumors permeated the small town, some speculating that Beau had killed himself because his wife was seeing another man, while others claimed the unidentified boyfriend had run Beau off the road to free Margie from her marriage.
After Beau's death, Margie and her son lived with her parents until 1983, when 26-year-old Margie Beauchamp married 45-year-old Thomas Rodale, a local engineer. Margie and Thomas soon welcomed her second son, Jordan, and the family relocated to Oxford, Mississippi.
Devlin first made a name for himself in Oxford at age 14, when he became the youngest player ever to make the starting lineup of the Yoknapatawpha High School varsity baseball team. Devlin went on to distinguish himself as an above-average third baseman and an outstanding cleanup hitter. He was heavily recruited during his senior year, but Devlin's dreams of a professional baseball career ended when he suffered a devastating injury at the end of his senior season.
In 1999, Devlin enrolled at the University of North Carolina, where he spent five years studying and changing his major several times but never earning enough credits for a degree. To make spending money, Devlin worked part-time as a cook at Uncle Bubba's Chicken and Ribs.
In 2004, Devlin and then-girlfriend Paulette Milstrom moved from Chapel Hill to New Orleans. While Paulette attended graduate school at Tulane, Devlin worked at Mama's Dixie 'Cue, first as a cook and later as the kitchen supervisor. On Christmas Day in 2005, Devlin gave Paulette an engagement ring.
They decided to marry in the fall of 2006, but their plans for a future together were short-lived. Devlin came home one June night to find Paulette and all her belongings gone. All that remained was a note taped to the television in which Paulette said she was sorry for hurting him, but she and one of her professors were eloping that night.
Devlin never fully recovered from the betrayal and vowed he would never trust another woman. He spent the next seven years traveling and working in restaurants in cities around the South.
In 2010, Thomas Rodale passed away unexpectedly, and Devlin offered to move home to be with his mother, but she insisted it wasn't necessary. However, when Margie suffered a debilitating stroke in 2013, Devlin did move back into her house, where he took care of her until her death in 2014.
To earn money while he cared for his mother, Devlin started a small barbecue stand. He served only lunch, but the stand became popular enough to support his mother and him. Devlin's half-brother Jordan sent occasional checks to help cover Margie's expenses but didn't return to Oxford until his mother's funeral.
The brothers, who had never been close, were further estranged when they learned Margie had left her entire estate to Devlin. Jordan unsuccessfully contested the will, and the men rarely spoke to each other except through their lawyers.
In early 2015, one of Devlin's regular customers at the barbecue stand suggested the two of them go into business together. With a lot of hard work and a little luck, Devlin and Carl opened Home Plate in time for football season that same year. It was a hit with barbecue lovers and food critics, who singled out Devlin's secret barbecue sauce for its "perfect marriage of tang and sweet" and its unusual combination of spices that gave it "an unexpected depth of flavor with just the right amount of kick."
As Home Plate became more successful, so did its co-owners. Despite the increase in his income, Devlin continued to live in the home that his mother left him, preferring to spend his money on his social life.
---