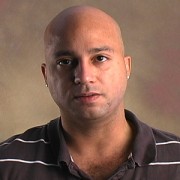 Thomas Eldon bio
On May 11, 1983, Thomas Jefferson Eldon III was born to Charlene L. & Thomas J. Eldon II and became the newest member of one of the oldest families in Oxford, Mississippi.
As their only child, Thomas was cherished by his parents. Thomas II and Charlene were highly intelligent and believed strongly that if they overstimulated their son's senses in his early years, he would absorb knowledge like a sponge.
Both Thomas' father and grandfather graduated from Harvard Law School, and Thomas grew up knowing he was expected to do the same. As a small child, Thomas would set twelve stuffed animals along one wall of his bedroom, arrange a giant teddy bear as "judge" and a stuffed monkey as "opposing counsel," and then pace back and forth playing "trial day."
On his very first day of school, Thomas was sent to sit in the corner because he repeatedly told his teacher that her desk was in the wrong place. At the end of the school day, as he was leaving, he turned to his teacher and said, "I'll see you in court."
Despite his moments of overbearing confidence, Thomas excelled academically and earned his undergraduate degree at Harvard with a 4.0 GPA, and then went on to complete Harvard Law School just as he was supposed to. Thomas graduated from law school at the top of his class and went home to Oxford, where he passed the Mississippi bar exam his first time out.
He joined the family law firm as an immediate partner, and it was renamed Triple T Attorneys at Law in a move that prefigured Thomas III's rejection of convention and stodginess. Not long after, the firm began to move away from the quiet family law cases of his grandfather's time to the flashier, more controversial clients and cases that the millennial Thomas preferred. Not that the elder Eldon had anything to complain about; by the time of his retirement, his grandson had made Triple T the most profitable law firm in northern Mississippi.
However, the new-found fortunes of Triple T did come at some cost to the firm's and family's reputation. Although the Eldons were tough-as-nails litigators that no one wanted to see in court, they did have to settle some large cases that cost their high-profile clients thousands. Some of these settlements came with whispers of impropriety, if not outright scandal.
For the most part, Thomas Eldon III ignored his critics and continued to pursue additional clients with questionable backgrounds as long as they had deep pockets.
It was to no one's surprise in Oxford when Hoyt Biffle, the controversial owner of reality adult entertainment venue Under Glass, retained the youngest Eldon's services in his battles with the mayor, the city board, and Oxford's moral crusaders, a job Thomas would continue even after Hoyt's murder as he handled Hoyt's estate arrangements.
---