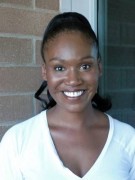 Shannon Bower bio
Shannon Doris Bower was born November 15, 1972, in Tupelo, Mississippi. Her parents, Joe and Marilou, owned and managed the Hot Stuff Bakery in Tupelo, where they worked long hours to provide a good living for Shannon and her younger sister, Marvella.
Shannon was a voracious reader and consumed books on any subject. She once confided to Marvella when they were just children that she wanted to "do something important" and "be somebody." She maintained excellent grades in high school because she was determined to get a good college education.
Marvella often referred to her sister as "The Bulldog" because Shannon never gave up once she made up her mind about something. Shannon sometimes had tunnel vision when it came to something she believed was right and often wasn't able to see that there were two sides to an argument.
When she started at Ole Miss, Shannon didn't know what she wanted as a career but was sure she would discover it through education. In her freshman year, her roommate Marti Scarr, who was interested in nursing, suggested that they volunteer at a nearby hospice. Each week, they spent several hours as relief for in-home caregivers of terminally ill family members, and as a result, Shannon discovered she was interested in the healthcare field but not as a nurse or doctor.
She decided on physical therapy and, upon graduation from Ole Miss, went on to get her Masters in Physical Therapy (MPT). She was hired at the same hospice and still makes time to volunteer there. Her coworkers respect her as a dedicated therapist, and she's popular for her fun-loving persona outside of work.
Shannon and her partner, Marti, bought a home in the Whitehall neighborhood in 2007. Shannon belongs to several organizations, and she and Marti are outspoken advocates for LGBT rights. They often host meetings and parties at their home, and always tell their neighbors in advance about gatherings and invite them to attend.
When Ambrose Garrett became the Whitehall HOA president, Shannon's trouble-free existence in the neighborhood seemed to evaporate. Ambrose objected to the numbers of gatherings held at her home and the noise and traffic they created, even though her neighbors never complained.
She chafed under his scrutiny and accused him of stalking her since he seemed to know her every move. He would call the police on her. She would retaliate by pushing every rule to the max, as though daring him to fine her, and then she would refuse to pay the fine for "some silly rule."
Never shy about expressing her opinions, Shannon argued with Ambrose over anything he favored in the association's meetings. Consequently, their feud was well-known in the neighborhood. They engaged in a heated argument at the March 11 meeting over an HOA website Ambrose was planning to set up.
---
$ 8.00 $ 7.00 This sturdy, bright yellow lanyard printed on both sides with "CRIME SCENE DO NOT CROSS" in black letters. Shop Now

$ 44- 54 explores a different crime scene processing technique each month. Shop Now

$ 30.00 – $ 33.00 Jackets feature a detective shield printed in white on the front and FORENSICS in large white type on the back. Shop Now

$ 25.00 $ 22.00 Create a professional crime scene sketch quickly. Shop Now

$ 8.00 Contains 2 of each size paper and plastic bags (large, medium and small.) Use for real evidence or fun. Shop Now

$ 44.00 A real print kit, fully stocked with instructions and enough supplies for at least 50 different print lifts. Shop Now

$ 4.50 – $ 150.00 The standard FBI fingerprint card, form No. FD-258 version: 11-1-20 used for noncriminal fingerprinting Shop Now

$ 25.00 $ 16.00 A wall chart illustrating common fingerprint comparison characteristics. Shipped in a protective cardboard tube. Shop Now

$ 75.00 $ 60.00 Examine the evidence to solve a murder. Dust evidence for prints & test fabric for the presence of blood. Shop Now