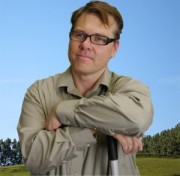 Caleb Hamilton bio
Caleb Hamilton was born on April 2, 1985, at home in Oxford to Franklyn and Annabelle Hamilton. Before they were married, his parents decided they wanted three children, but Franklyn worked for the city, and Annabelle cleaned houses. After a couple of years, they came to the conclusion they would never be able to afford more than one child.
Caleb sometimes wished he had siblings, but he got enough attention from his parents and extended family that he didn't miss companionship.
After graduating from high school, Caleb was at loose ends for a while. He always thought that he would be a big baseball star. He played in the Little League and then on to the high school team, but it turned out he wasn't good enough to go any further.
Caleb worked at the local McDonald's for two years, and then his father helped him get a job with the city when one of the other workers left his job. Caleb has been working for the city for the last 17 years. He is content with what he does and knows the city of Oxford and Yoknapatawpha County like the back of his hand.
While taking his lunch break one day at the Oxford Public Library, one of the librarians caught Caleb's eye. He returned to the library many times in the following weeks, gradually getting to know Odella Robinson. When he finally worked up to asking her for a date, Odella accepted, and the couple has been practically inseparable ever since.
Now married, Caleb and Odella have four children, and Odella has recently returned to the library full-time now that their youngest is old enough to attend school. Caleb and his family live just down the block from Caleb's parents, who often babysit their grandchildren, whom they adore.
---
$ 8.00 Contains 2 of each size paper and plastic bags (large, medium and small.) Use for real evidence or fun. Shop Now

$ 4.50 – $ 150.00 The standard FBI fingerprint card, form No. FD-258 version: 11-1-20 used for noncriminal fingerprinting Shop Now

$ 25.00 $ 16.00 A wall chart illustrating common fingerprint comparison characteristics. Shipped in a protective cardboard tube. Shop Now

$ 30.00 – $ 33.00 Jackets feature a detective shield printed in white on the front and FORENSICS in large white type on the back. Shop Now

$ 44- 54 explores a different crime scene processing technique each month. Shop Now

$ 44.00 A real print kit, fully stocked with instructions and enough supplies for at least 50 different print lifts. Shop Now

$ 25.00 $ 22.00 Create a professional crime scene sketch quickly. Shop Now

$ 8.00 $ 7.00 This sturdy, bright yellow lanyard printed on both sides with "CRIME SCENE DO NOT CROSS" in black letters. Shop Now

$ 75.00 $ 60.00 Examine the evidence to solve a murder. Dust evidence for prints & test fabric for the presence of blood. Shop Now