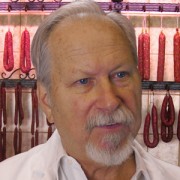 Jerry Tucker bio
Jerry Lee Tucker was born in Oxford, Mississippi, on May 12, 1964, to Donald and Valerie Tucker. The Tuckers had three children. Jerry was the youngest and the only boy. Donald loved his girls and pampered them but was thrilled to finally have a son to follow in his footsteps.
Donald had inherited Tucker's Butcher Shop from his father, and he wanted to pass the business down to his own son. As soon as Jerry was old enough, Donald started taking him to the shop. He taught Jerry all about the cuts of meat and even let him help package orders for the customers. Like his dad, Jerry was ecstatic about someday owning the butcher shop.
Jerry sped through his childhood, happy and carefree most of the time. He enjoyed school and was a good student, but he had no plans to attend college. He'd already decided his future and was eager for it to begin as soon as possible. After he graduated from high school, Jerry went to work full-time at the butcher shop.
One day a couple of years later, a young woman came into the shop to pick up some meat for her mother. Jerry was smitten from the first moment he saw her. The following week, she returned for another order, and this time Jerry made up his mind that he wouldn't let her leave without at least getting her name. He spoke to her briefly and found out her name was Marcy Williams, and she'd only just moved to Oxford.
After several of Marcy's weekly visits to the butcher shop, Jerry finally got the courage to ask her to a movie. They dated for almost a year before he finally popped the question. After they were married, they settled in Oxford and later were blessed with two sons, Michael and Lance.
When the boys reached their early teens, Marcy was diagnosed with cancer. In just a year's time, she was gone. A few months later, Jerry's father died of a heart attack, and Jerry became the sole owner of Tucker's Butcher Shop. Just before Donald passed away, Jerry promised him he'd take care of his mother, Valerie, for the rest of her life, and he'd always keep the business going.
Jerry still lives in Oxford, raising his two sons, faithfully keeping a close eye on his mother, and nurturing the business he loves.
---