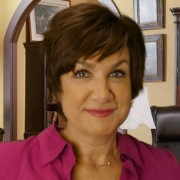 Megan Ford bio
Megan Ford was born prematurely on December 12, 1972, to Mitchell and Francis Turnbloom at the North Mississippi Medical Center in Tupelo. She wasn't allowed to go home with her parents until she was three months old. Once she was released from the hospital, she was pampered by the entire family, which consisted of her four grandparents, one sister, Mary, and two brothers, Marty and Mitchell II, in addition to her parents.
Megan's fragile health made her a late starter, and she had to be held back in school. But as she got older, she got stronger. She was also smart enough that she caught up with the other children her own age after skipping second and then fifth grade. She couldn't play sports, but she went to all the games and rooted for the school teams. Megan dated in high school but never had a steady boyfriend.
After graduating, she went on to college, earned a degree in accounting, and obtained a CPA certification. Since then, Megan has worked at Myles Financial Associates, where she met her ex-husband, Terence Ford.
Terry was an outdoorsman and loved hunting, fishing, and camping, and Megan was attracted to his rugged self-sufficiency. They married almost two years to the day after they started dating.
The marriage was happy for both of them at first, but over time, Megan and Terry discovered they weren't meant for each after all. They divorced after 11 years. They never had children, and after the divorce, Terry left the firm for a job in Portland, Oregon. Megan hasn't seen him since.
Megan still works at Myles Financial and lives alone in a small house she bought after her divorce.
---