Remember General Shegog's poem, Treasures of the Academy?
The last lines of the poem, included below, give a clue to the location of the treasure, which is also the location of the lost Kudzu kids.
Crawl ye serpents to your winter nests
Where skeletons war and riches rest
There is fire in the sky and guns in the ground
To kill North and South and the heaven bound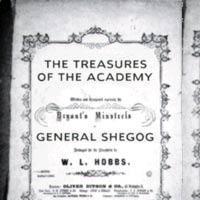 The Chapel bares the Light … the Body … the Bread
But the earth's riches rot beneath the House of the Dead
Deep, slow, deeper down
Creep, aim, crawl around
Ye scavenging fools whose claws cannot wait
Shall go wandering right at the den of Stark's Bait.
And if he put country first, then on to Goldstar Peak
And if he put God first, then turn the other cheek.
Onward Christian soldiers—steady we go
Marching the twice left path of old Santo Spirito
And once his eyes on the fourth den do fix
He shall march the rest as a Crucifix
Left, right … right, left, right …
Right, left, right … right …
Left!
X marks the spot where the sick spirits loom
Where the greed and hatred of man spells his doom,
Where the Confederacy rises to enliven your fears—
You will die if my academy's treasure disappears.
Do you now know where the missing Kudzu Kids are? Click Solve the Case above.
Want a little more help? Click Give Me Another Hint above.