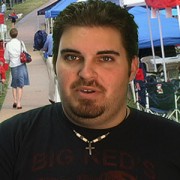 David Gregory bio
David Gregory was born in Oxford on March 12, 1994, to Marcy and Phil Gregory, the first of their four children. Phil was a laborer in a lumberyard, and Marcy worked as the billing clerk in a small dental office.
Marcy quit work when David was born, intending to stay home with her children. However, after the birth of her second child, when David was two and a half, Marcy returned to work.
David didn't adjust well to being placed in daycare, and his attitude did not improve after he started kindergarten. Bright but unmotivated, David was disruptive and demanded constant attention from teachers and classmates.
During high school, David's primary focus became making money. He held numerous part-time jobs, sometimes simultaneously. His grades suffered, and he barely had the credits to graduate.
David describes himself as a novelist and an entrepreneur, but he has difficulty taking instruction from anyone for any reason.
Upon graduation from high school, he started a pool cleaning business and reveled in being his own boss. He chose whether or not he would accept a client. He likewise controlled his schedule, which gave him the freedom to write.
David also fancies himself a ladies' man. He likes attracting the attention of the women he comes across in his work, from his clients who were wealthy, stay-at-home wives to their household help.
---