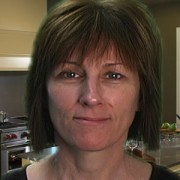 Rachel Moody bio
Rachel Moody was born on August 8, 1970, to Lawrence and Ingrid Moody in Derby, England. Rachel was the Moodys' only child. In 1977, when Rachel was seven years old, she and her parents immigrated to the United States and settled in Oxford.
Ingrid developed an interest in cooking and began taking culinary courses at The Learning Annex. She had a particular affinity for Southern cuisine and perfected her recipes and techniques by cooking for her friends and neighbors.
Rachel enjoyed assisting her mother in the kitchen, learning knife skills, and measuring and prepping the ingredients. She realized at a young age that she wanted to be a chef.
When she was 16, with permission from her parents, Rachel began a serious pursuit of culinary arts. She explored the possibility of chef school, setting a goal to attend The Culinary Institute of America. Rachel took part-time work in local restaurants to save money for her tuition.
She was an outstanding employee and diligently applied herself with an enthusiastic desire to learn all that she could. She gained an excellent reputation. After graduating from high school, her employer at the time recommended her for a hostess position at one of Oxford's top restaurants.
There, she worked her way back to the kitchen, where the head chef took her under his wing. He convinced her to forego chef school and offered her a paid apprenticeship position, studying under him.
Rachel was talented and driven and steadily moved up through the ranks. When the head chef went to work at the fine dining restaurant, Ravine, he took Rachel with him as his sous chef.
Paul and Barbara Byrns frequented Ravine and got to know the staff. Paul was looking for a personal chef and was impressed by Rachel's talent and hard work.
After months of eating her cooking at Ravine, Paul made Rachel an offer of employment that, financially, he didn't think she could refuse. She did.
Accustomed to getting what he wanted, two weeks later, Paul made Rachel an offer that, financially, she really could not refuse.
Rachel has been working for Barbara and Paul Byrns since April 2018.
---