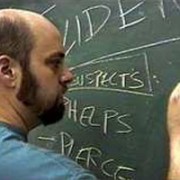 Det. Terry Nelson bio
Terrence M. Nelson was born in Jackson, Mississippi, on November 30, 1958. He died in Oxford, Mississippi, on August 29, 1999.
His mother, Helen O. Nelson, is an accomplished violinist with the Jackson Symphony. His father, Richard D. Nelson, is a manufacturers representative for Vickers, Inc., makers of ball and roller bearings in Jackson.
Terry has two younger sisters, both married. Janet lives in Cincinnati, Ohio, with her husband and two children. Rebecca lives in Charleston, South Carolina, with her husband David and two golden retrievers.
Terry graduated from Callaway High School in 1976. He attended the University of Mississippi first in Jackson and then transferring to the main campus in Oxford in his sophomore year. He graduated in 1980 with a B.S. degree in Forensic Science.
Terry worked for the State Crime Lab in Jackson for two years following graduation. He joined the Yoknapatawpha County Sheriff's Department in 1982. Terry quickly distinguished himself in crime scene analysis and was at one time the Department's senior crime scene specialist.
When he was off duty, Terry taught a night school course at the University of Mississippi in crime scene evidence collection techniques. He worked with local youth organizations, coaching the Oxford Youth League softball team. Terry was an avid sculptor in his spare time and was active with the Yoknapatawpha County Arts Council.
In April 1999, Terry was suspended from the Yoknapatawpha County Sheriff's Department. The official report listed Nelson's "erratic behavior," "blatant disregard for the official rules, regulations, and standards of investigation and conduct," and "insubordination" as the reasons for his suspension. The rumor around Oxford was that Terry had finally pushed one too many powerful people too far in his pursuit of a case.
He lived in Oxford with his wife, Susan, until May of 1999. At that time, due to Susan's accusations of his affairs with younger women and Terry's relentless devotion to his work, which was consuming him, the couple separated.
Terry moved into an apartment halfway between the campus and the town square and seemed to be involving himself deeper and deeper into the actions of a strange "cult" that called itself Ego Shovel.
Terry was found in his truck outside Clyde's Lounge just off the square in downtown Oxford on the evening of Thursday, August 26. He appeared drunk and was mumbling incoherently. Before he reached the hospital by ambulance, he was unconscious and never woke.
He died on Sunday, August 29. A subsequent investigation into his death revealed that he had died from a lethal dose of Gamma Hydroxybutyrate (GHB), a central nervous system depressant commonly referred to as a "club drug" or a "date rape drug." His death was classified as suspicious.
Nelson was buried in Bishop Hill Cemetery in a closed-casket ceremony attended by nearly 200 mourners.
---
$ 44- 54 explores a different crime scene processing technique each month. Shop Now

$ 25.00 $ 16.00 A wall chart illustrating common fingerprint comparison characteristics. Shipped in a protective cardboard tube. Shop Now

$ 8.00 $ 7.00 This sturdy, bright yellow lanyard printed on both sides with "CRIME SCENE DO NOT CROSS" in black letters. Shop Now

$ 30.00 – $ 33.00 Jackets feature a detective shield printed in white on the front and FORENSICS in large white type on the back. Shop Now

$ 8.00 Contains 2 of each size paper and plastic bags (large, medium and small.) Use for real evidence or fun. Shop Now

$ 25.00 $ 22.00 Create a professional crime scene sketch quickly. Shop Now

$ 75.00 $ 60.00 Examine the evidence to solve a murder. Dust evidence for prints & test fabric for the presence of blood. Shop Now

$ 44.00 A real print kit, fully stocked with instructions and enough supplies for at least 50 different print lifts. Shop Now

$ 4.50 – $ 150.00 The standard FBI fingerprint card, form No. FD-258 version: 11-1-20 used for noncriminal fingerprinting Shop Now