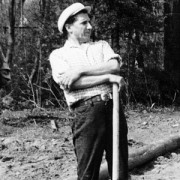 Pete Corey bio
Pete Corey was born on April 18, 1930, at precisely 11:13 p.m. in Nashville, Tennessee. His twin brother, Christopher, was born nine minutes later.
The Corey brothers were an illegitimate pair born to Mary Louise Corey, assistant to a well‑known Nashville chef who was most likely the boys' father but denied ever having been involved with Miss Corey.
The boys' mother never recovered from the difficult childbirth of her twins. She died June 1, 1930, and the boys were shipped off to live with their grandparents, Thomas and Eula Corey, on a farm in College Hill, Mississippi, just outside of Oxford.
The young Coreys lived sheltered lives consisting mainly of farmhand chores until they began attending North Yoknapatawpha High School in 1945 after having completed their early education at a tiny school in the College Hill community.
The brothers stuck together mostly, striking odd figures—sad, stretched faces, hunched shoulders, and deep‑set, vacant eyes were a common characteristic. They were constantly ridiculed and provoked by other students, but stuck up for each other and fought their bullies when necessary.
Upon graduating from high school in 1947, the brothers agreed to enlist in the Army and leave Oxford, but Pete's poor eyesight prevented him from joining the military. Reluctantly, the brothers parted ways. Christopher went on to become a corporal in the infantry, while Pete stayed behind and helped his grandfather on the farm.
In 1952, Pete received word that his brother had been killed near Seoul, Korea, when a mortar shell hit his jeep during a North Korean attack. Pete, feeling defeated as well, said goodbye to his grandparents and moved to an apartment in Oxford, where he soon found employment at the Bowlan Glove Factory.
Pete's close association with Jessie Danahy and Harvey Booker, who had been his classmates in high school, continued at Bowlan, and the group became notorious brawlers and drunkards.
Pete found himself in several altercations with the police, even spending a few nights in jail for assault and possession of marijuana. On New Year's Eve of 1957, he was arrested with Danahy and Booker for assault.
After being laid off from Bowlan Glove, he adopted Danahy as his surrogate brother, following him and Booker to New Orleans and Memphis, working odd jobs and getting into more trouble.
He returned to Oxford with Danahy and Booker in 1960 to start a commune that endorsed drug use and free love, even though their notorious tempers continued to flare.
Both Pete Corey and Jessie Danahy died in a horrendous, drug‑fueled car wreck outside of Oxford on Highway 6 in 1964.
---