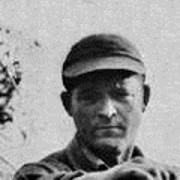 Jimmy Warren bio
Jimmy Warren was the son of John and Lucille Warren, natives of Yoknapatawpha County. John Warren was a hard-working farmer, and Lucille, a homemaker. The couple had three children: Elbert, born September 19, 1921, daughter Clarice born October 15, 1923, and James, born June 12, 1926.
Lucille Warren was a devout Baptist, active in her church, and insisted on the family attending church regularly. John Warren wanted his children to have a better life than farming and encouraged their education, refusing to allow Elbert or Jimmy to drop out of high school to work in the fields.
The Warren children all attended county schools, including North Yoknapatawpha High School, though Clarice was the first and only member of the family to attend college. She married David Maxwell and moved to New York. The Maxwells had two children, Jamie and Kelly.
Jimmy graduated from high school in 1944 and joined the army, seeing infantry action almost immediately on Leyte in the Philippines. He served in the South Pacific theater until his discharge in 1946.
On his return to Oxford, Jimmy went to work at the Bowlan Glove Factory with his brother, Elbert. He started as an assembler and then moved to freight handling.
By 1958, he had moved into the machine maintenance program when he was laid off.
Jimmy had numerous warnings for fighting and arguments with supervisors in his personnel record. His brother Elbert stepped in on his behalf several times to help him keep his job. Jimmy toned down his fighting on the job as a result, but he was well‑known outside of work for his brawling and getting into frequent bar fights. He had a long record of arrests for public disturbance and assault.
Following his layoff from Bowlan Glove in April 1958, Jimmy went to Chicago looking for work. He worked at a meatpacking plant there from October 1958 until February of 1960 when he returned to Oxford.
He went to work for Grays Trucking and worked for them until shortly before his death in 1983 from pancreatic cancer.
Jimmy Warren never married.
---
$ 44.00 A real print kit, fully stocked with instructions and enough supplies for at least 50 different print lifts. Shop Now

$ 75.00 $ 60.00 Examine the evidence to solve a murder. Dust evidence for prints & test fabric for the presence of blood. Shop Now

$ 8.00 Contains 2 of each size paper and plastic bags (large, medium and small.) Use for real evidence or fun. Shop Now

$ 30.00 – $ 33.00 Jackets feature a detective shield printed in white on the front and FORENSICS in large white type on the back. Shop Now

$ 44- 54 explores a different crime scene processing technique each month. Shop Now

$ 25.00 $ 22.00 Create a professional crime scene sketch quickly. Shop Now

$ 25.00 $ 16.00 A wall chart illustrating common fingerprint comparison characteristics. Shipped in a protective cardboard tube. Shop Now

$ 4.50 – $ 150.00 The standard FBI fingerprint card, form No. FD-258 version: 11-1-20 used for noncriminal fingerprinting Shop Now

$ 8.00 $ 7.00 This sturdy, bright yellow lanyard printed on both sides with "CRIME SCENE DO NOT CROSS" in black letters. Shop Now