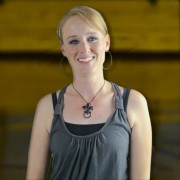 Sylvia Mason bio
Sylvia Mason was born in Oxford on November 11, 1994, and is the only child of her adoptive parents, George and Becky Mason, from Burnsville, Mississippi. George worked installing cabinets at the Vanleigh RV manufacturing plant, and Becky worked part-time from home as a medical transcriptionist.
Sylvia's parents adored her, and she wanted for nothing. George and Becky set up a college fund for Sylvia on the day the adoption was final, and both parents made regular contributions to it. For her third birthday, George bought Sylvia a Christmas Beanie Baby bear. This launched what would become Sylvia's enormous collection of Beanie Babies.
Sylvia attended Iuka Elementary and Tishomingo County High School, where she maintained good grades with minimum effort. At school, she was very social and outgoing, and while not particularly competitive, she enjoyed participating in team sports. By the time she was a high school sophomore, she was an accomplished volleyball player. She was the team captain in her senior year.
College was not a high priority for Sylvia until Ole Miss offered her a small volleyball scholarship. The college fund her parents had set up was sufficient to ensure that Sylvia had the money for books and tuition, and her parents paid for housing so Sylvia would not need to work. She majored in Health and Physical Education, intending to be a high school teacher and volleyball coach.
George was diagnosed with Parkinson's disease in 2012 and was medically retired from his job during Sylvia's junior year of college. Sylvia's grades suffered, but she managed to graduate on time despite the stress.
Sylvia is the assistant volleyball coach at Northwest Mississippi Community College. She makes the two-hour trip home to Burnsville twice per month to visit her parents. She occasionally spends the night in her old room, which still houses her collection of Beanie Babies.
Sylvia's coaching schedule and dedication to her players leave little time for relationships. She had a long-term friend-with-benefits arrangement with a married man, but he broke it off when Sylvia asked him to leave his wife and commit to her. Subsequently, she had a series of short-term, intensely sexual relationships with men, most of whom she met on dating apps, followed by a 10-month monogamous relationship that ended a few months ago.
---