Canvass – Miller neighbors
On October 30, 2020, YCSD investigators spoke to residents in Frederick Miller's neighborhood to find out if they observed any suspicious activity in the neighborhood recently.
The neighbors were asked about their relationship with the Miller family and any recent interactions they may have had with any of the Miller family members.
The interviews summarized are some of the most typical or relevant to the investigation and are representative of all interviews conducted.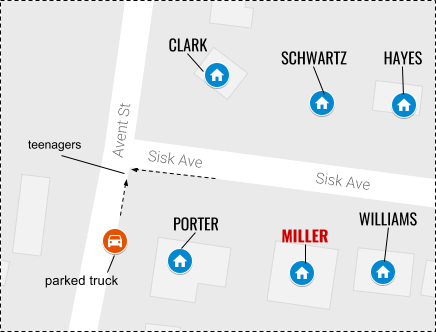 242 Sisk Ave
David J. Porter
Next door to the west of the Miller residence
Mr. Porter said that he doesn't know the Miller family very well. He was home around 5:00 pm on Thursday and said he didn't see or hear anything unusual that day.
However, Mr. Porter noted that for about a week in late September, there was a white pickup truck parked on Avent Street, directly in front of his house. He thought this was strange because it didn't appear to belong to anyone in the neighborhood, and it didn't move at all during that time. On the 5th or 6th consecutive night, Mr. Porter considered calling it in to have it towed, believing it may have been abandoned. But the next morning, the vehicle had been moved, and he hasn't seen it since.
There are no comments posted here yet