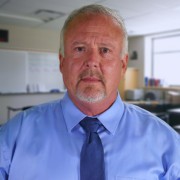 Frederick Miller bio
Frederick Vincent Miller was born on June 9, 1966, in Columbus, Ohio. He was the second of three children born to Francis and Mary Miller. Francis was a gifted musician who played the organ at the local Catholic Church and gave private piano lessons in the Millers' home. Mary's job in a typing pool was the family's primary source of income.
Frederick inherited his father's musical talents, but not his desire. Nevertheless, Francis pushed his son hard for perfection, making Frederick practice at least three hours per day. Frederick's father felt that modern music was trash, and Frederick was forbidden to play any music written after the year 1900.
When he was 13, Frederick began defying his father and refusing to practice. He spent as much time as possible in the school library studying science, and he maintained a high G.P.A. throughout high school.
In 1984, he matriculated into Ohio State University pursuing a Bachelor's of Education degree, specializing in Science and Mathematics. He graduated Magna Cum Laude in 1988.
During his senior year of college, Frederick met Caroline Portfield, an OSU freshman student studying creative writing. The two dated on and off until Frederick graduated when the couple became exclusive.
Frederick taught in the public school system in Columbus for the next three years. In August 1991, after Caroline graduated, the couple moved to Oxford, where Caroline pursued an advanced degree in creative writing at Ole Miss. The couple married in November 1991.
Frederick began teaching biology at Yoknapatawpha High School in 1991. He was a no-nonsense teacher, accepting nothing less than the best efforts of his students. He was not known for his sense of humor. When his daughter began to show real talent in competitive archery, Frederick volunteered to be the school's archery team's assistant coach.
His years of teaching diminished his passion for science somewhat, but a passion for music emerged to take its place.
In February 2010, while listening to the Faith and Glory Community Church choir butcher an uninspiring, modern arrangement of a traditional hymn, Frederick resolved to bring tradition back to church music. He offered to help out the choir by providing classical vocal training for choir members and conducting whenever the choir director had to be away.
Choir director Nathaniel Huggins gratefully accepted, and Frederick became the volunteer assistant choir director. As a perfectionist, his rehearsals were typically grueling. Frederick regularly pushed for the choir to sing traditional church music.
At home, Frederick expected everything to be neat and orderly at all times and is irritated when anything is out of place. He expected dinner at 5:15 each evening. Caroline often joked that Frederick missed his calling as a drill instructor.
He and Caroline have one child, Elizabeth, who is 17 years old and a student at Yoknapatawpha High School.
---