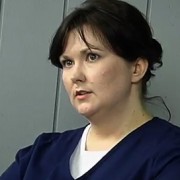 Ruthie Foreman bio
Ruthie Gale Stewart Foreman was born August 23, 1983, to Sam and Becky Stewart in Oxford, Mississippi. Sam was a mechanic with a small engine shop. Becky worked as a beautician at a local salon.
Children weren't in Sam and Becky's plans, so when Becky became pregnant, they were stunned. They wrestled with what to do, but ultimately, they decided to become parents.
When their daughter was born, it was love at first sight for both. They named her Ruthie Gale in honor of their mothers and made sure she wanted for nothing.
During Ruthie's school years, she made friends and enemies. Her parents taught her to respect others but never to be a pushover to anyone. The in-crowd didn't accept her, mainly because she didn't hide her opinion that they were spoiled and selfish and always had to have their way. Ruthie was kind and sweet to her family and friends, but when it came to the people she didn't like, all of that sweetness fell away.
Ruthie knew what her plans were for the future at an early age. She made good grades, and all her high school courses were geared toward becoming a registered nurse. She earned her Certified Nursing Assistant certification during high school and worked at a nursing home. She loved the people and enjoyed taking care of them.
After high school, Ruthie first earned an associate's degree in nursing and then a bachelor's degree. It had been a demanding time in her life, but her dream came true when the state of Mississippi officially licensed her as a registered nurse.
During her school years, Ruthie didn't have time for dating or much of any social life. After she got her nursing license, Ruthie's parents gave her a trip to Miami Beach. While in Florida, Ruthie met Alex Foreman, and it was love at first sight. After her two-week vacation, she returned home, and they promised to keep in touch.
Ruthie landed a job at Baptist Memorial Hospital, and her days consisted of work and speaking with Alex on the phone. In 2009, a year after they met, Alex surprised her and moved to Oxford. They married soon after.
After ten years of marriage, Alex was tragically killed in a car accident. A devastated Ruthie was never quite the same. She became more reserved and didn't smile anymore.
In 2021, Ruthie accepted the head surgical nurse position at Baptist Memorial and still holds that position today.
---