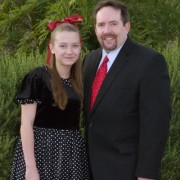 Haley Smith bio
Haley was born to Wallace and Veronica Smith on January 10, 2008. Soon after Haley was born, her parents separated when Wallace began drinking heavily, and Veronica worried he was going to hurt her or Haley. She was granted a divorce and full custody before Haley's first birthday. Wallace was given visitation rights, which he rarely exercised after Veronica and Haley moved to Florida for Veronica's fellowship.
Since her mom was working long hours at the hospital, Haley spent a lot of time at the Liberty Academy Daycare & Preschool, Inc. in Miami, Florida. But even when she was exhausted, Veronica made the most of her time with Haley, taking her to the beach and the children's museum among other activities.
When her mom fell in love with George O'Connor, Haley instantly bonded with him, and by the time Veronica and George married in 2012, Haley was calling him "Daddy." Whenever the two were together, Haley was right beside him. Haley loved having both a mommy and a daddy, and she flourished in the family environment.
After Veronica's training was complete, she and Haley moved into the home that George purchased for them in Oxford, Mississippi. Haley's visits with Wallace were few and far between, and George and Haley developed a true father/daughter relationship.
Haley is obsessed with Harry Styles. She has downloaded all of his music, and she has posters of him plastered all over her bedroom walls. Haley is shy, but she has a couple of close friends who are in Girl Scouts with her. Other than math, which she struggles with, her grades are above average, and in her free time, she loves to read, swim, and spend time with her family.
Haley was very close to her mother, and even though their work and school schedules didn't allow them to spend a lot of time together, Veronica made sure they spent quality time together every week. The family had planned a getaway over the winter break, but at the last minute Wallace called and wanted to see Haley. To accommodate his wishes, they canceled their plans.
Haley spent a few hours with Wallace one morning, but then he said he had to go, which hurt her feelings a little though she was happy to go back to her mother and George. Haley had hoped that George would adopt her, and she was disappointed when Wallace didn't let it happen. At the same time, she didn't want to hurt Wallace's feelings, so she hasn't told him how she really feels about it.
Haley is currently in the fourth grade at Oxford Elementary School.
---
$ 8.00 $ 7.00 This sturdy, bright yellow lanyard printed on both sides with "CRIME SCENE DO NOT CROSS" in black letters. Shop Now

$ 30.00 – $ 33.00 Jackets feature a detective shield printed in white on the front and FORENSICS in large white type on the back. Shop Now

$ 75.00 $ 60.00 Examine the evidence to solve a murder. Dust evidence for prints & test fabric for the presence of blood. Shop Now

$ 8.00 Contains 2 of each size paper and plastic bags (large, medium and small.) Use for real evidence or fun. Shop Now

$ 25.00 $ 16.00 A wall chart illustrating common fingerprint comparison characteristics. Shipped in a protective cardboard tube. Shop Now

$ 4.50 – $ 150.00 The standard FBI fingerprint card, form No. FD-258 version: 11-1-20 used for noncriminal fingerprinting Shop Now

$ 25.00 $ 22.00 Create a professional crime scene sketch quickly. Shop Now

$ 44- 54 explores a different crime scene processing technique each month. Shop Now

$ 44.00 A real print kit, fully stocked with instructions and enough supplies for at least 50 different print lifts. Shop Now