Man arrested
OXFORD WEEKLY PLANET
January 31, 2021
Park ranger arrested in connection with illegal pot grow
Marijuana plants found in Wall Doxey State Park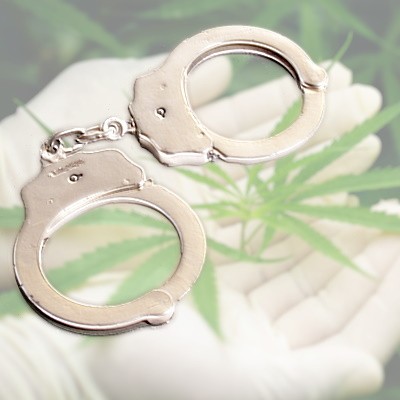 A Wall Doxey Park Ranger has been arrested for growing an illegal substance and selling it. Roy Cook confessed to
The Yoknapatawpha County Sheriff's Department seized approximately 100 marijuana plants from a garden plot within Wall Doxey State Park yesterday. Investigators say they also found pest control and irrigation equipment at the location.
A park ranger was arrested this morning in connection with the discovery. Leroy Marcus Cook, 34, was taken into custody without incident at his residence.
"This is a gross miscarriage of justice," said Cook's attorney, Pam Lipscomb. "Mr. Cook is innocent of any involvement with these marijuana plants or any other illegal activity.
"The sheriff's department has misconstrued the information provided to them," she continued. "When we discuss the evidence with the district attorney's office, we fully expect all charges to be dropped."
Sheriff's spokesperson Elizabeth Jones declined to comment on Lipscomb's claims, saying only that investigators acted on the evidence they had.
Jones would not say whether the discovery of the illegal marijuana plants or the arrest of Mr. Cook was connected to the murder of District Attorney Spenser Brooks, who was shot to death at Wall Doxey last weekend.
"The investigation into Spenser Brooks's homicide is ongoing," Jones told reporters. "If anyone has any information about that shooting, we ask them to contact the sheriff's department or Yoknaptawpha County Crime Stoppers."
By Kemper Jones at 12:00 PM
---
$ 4.50 – $ 150.00 The standard FBI fingerprint card, form No. FD-258 version: 11-1-20 used for noncriminal fingerprinting Shop Now

$ 44- 54 explores a different crime scene processing technique each month. Shop Now

$ 8.00 $ 7.00 This sturdy, bright yellow lanyard printed on both sides with "CRIME SCENE DO NOT CROSS" in black letters. Shop Now

$ 75.00 $ 60.00 Examine the evidence to solve a murder. Dust evidence for prints & test fabric for the presence of blood. Shop Now

$ 25.00 $ 22.00 Create a professional crime scene sketch quickly. Shop Now

$ 8.00 Contains 2 of each size paper and plastic bags (large, medium and small.) Use for real evidence or fun. Shop Now

$ 25.00 $ 16.00 A wall chart illustrating common fingerprint comparison characteristics. Shipped in a protective cardboard tube. Shop Now

$ 44.00 A real print kit, fully stocked with instructions and enough supplies for at least 50 different print lifts. Shop Now

$ 30.00 – $ 33.00 Jackets feature a detective shield printed in white on the front and FORENSICS in large white type on the back. Shop Now