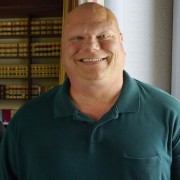 Louis Watson bio
Louis Leyland Watson was born on July 5, 1974. His parents, Richard and Tamsen Watson, were thrilled by the arrival of what would be their only child.
Louis grew up in Tuscaloosa, Alabama. Both of his parents worked in the county courthouse, which his father called "the palace of justice." Richard was a bailiff, and Tamsen was a court reporter.
Growing up, Louis spent a lot of time in the courthouse with his parents after school and during the summer. He learned the ins and outs of the different offices, and when he was old enough, he would sit in the courtrooms to hear the cases that were being heard. He loved the excitement of knowing that every case was important to someone, and he knew that he wanted to become an attorney.
Louis wasn't the best student, but he was the most determined. He worked hard to maintain a top GPA in high school, and his efforts paid off when he won a partial scholarship to the University of Alabama. His dedication to school continued as he took a full course load while working 30 hours a week at a local liquor store to make ends meet.
After he got his bachelor's degree, Louis went on to Ole Miss for law school, where he continued his pattern of studying and working at a liquor store. He graduated in the middle of his class, and after he passed the bar, he set up a law office in Oxford.
His law practice started off slowly, and at first, he continued working part-time at Ole Miss Liquors to supplement his income. In what little free time he had, Louis started dating a co-worker, Jane Ann Curtiss. They enjoyed each other's company and grew closer, even though most of the time they spent together was at work.
Finally, Louis won a big case and got a huge settlement for his client. With his fee, he bought Ole Miss Liquors because he knew it would provide a reliable second income. He was still seeing Jane, and he knew that dating an employee would make both their personal and professional lives awkward, so Louis did the only thing he could—he proposed.
She accepted, and they married six months later. These days, Louis's law practice is solid, and Jane runs the day-to-day at the store. They have no children.
---