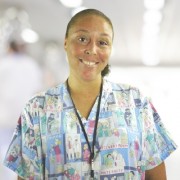 Mindy Fisher bio
Mindy was born on August 12, 1987, to Merle and Ruth Fisher in Florence, Alabama. She has an older brother, Steven, and a younger sister, Carrie.
As soon as she graduated from high school, Mindy started training to become a medical assistant. She also married her high school sweetheart, Adam Langton. Mindy got a job in a local medical office, while Adam worked part-time and studied finance at the University of North Alabama in Florence.
Mindy found she loved working in the medical field and soon decided to join Adam at North Alabama, taking nursing classes. She and Adam didn't get to see much of each other during those years, with both of them working and studying, but they knew it would all be worth it in the end. Once they graduated, they could get better jobs and have more time to spend together.
After they had earned their degrees, Mindy and Adam went out for a fancy dinner to celebrate their seventh wedding anniversary. Adam took both of Mindy's hands in his and told her how much he loved her. Mindy thought he was about to suggest they start trying for a baby, but instead, he broke the news as gently as he could that he was gay.
Mindy was stunned and heartbroken. Everything she thought she knew about her life was a lie, and she was angry. She and Adam separated that night. She refused to speak to him for weeks, but eventually, they civilly, if not amicably, divorced.
Still devastated and humiliated, Mindy decided she had to get out of Florence and make a fresh start where no one knew her. She moved to Jackson, Mississippi, and enrolled in the Family Nurse Practitioner track in the University of Mississippi School of Nursing graduate program.
When she completed her studies, she moved to Oxford and went to work as a nurse practitioner at the Yoknapatawpha Clinic for Women.
Since her marriage ended, Mindy has focused on her career. She finds it hard to trust men now, so she remains single and has no children. She has several close female friends, including her sister, who moved to Oxford with her husband several years ago, and she makes a point of being friendly with her neighbors.
---