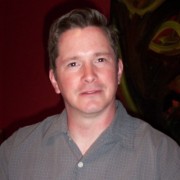 Byron Brooks bio
Byron Jesse Brooks was born June 28, 1981, to Fitzgerald and Margery Brooks of Oxford. Fitzgerald, an investment banker, left much of the child-rearing to Margery. In his limited interactions with his sons, Fitzgerald preached that hard work and sacrifice would earn them whatever they wanted in life.
While older brother Spenser took this philosophy to heart, Byron was the rebellious class clown even in kindergarten. But one of his father's regimens had a lasting effect: Once they could read, the boys had to recite by memory one of their namesake's poems each Christmas. Byron delivered his recitations with such flair that Margery enrolled him in children's theater at the first opportunity.
Even with this creative outlet, Byron continued to struggle academically but masterminded grandiose pranks that won him notoriety. The last occurred after a civics class outing to Oxford City Hall, when Byron stole official letterhead and wrote to the National Rifle Association condemning their refusal to support gun control legislation in the wake of school shootings like the one in Jonesboro, Arkansas.
The stunt earned him a criminal impersonation charge, which the family's lawyer pled down to a juvenile misdemeanor. It also caused Byron's high school sweetheart to break up with him.
The heartbroken Byron enlisted in the army immediately after graduation. He served in the Middle East and earned several commendations. With an honorable discharge under his belt, Byron traveled around the world before returning home to attend Ole Miss.
He graduated with a double major in business and Spanish and landed a junior marketing position at Federal Express. After relocating to Memphis, Byron met Hannah Davies, a resident actress at the Playhouse on the Square. They married in 2011, and in 2013, adopted an orphaned girl from Guatemala.
In 2015, they moved to a home on two acres in Grand Junction, a 40-minute commute from FedEx's Collierville complex. Hannah still took occasional roles with Memphis theater companies and worked part-time as a teacher's aide at the Grand Junction elementary school. She also cultivated the family's half-acre garden, which provided enough produce for them and their neighbors year-round.
As adults, Byron and his brother, Spenser, kept in cordial contact. Byron's family rarely came to Oxford for the holidays, preferring to travel abroad or visit with Hannah's relations.
When his father died in 2015, Byron returned to Oxford for the funeral and noticed that his mother was having difficulty standing. She had broken her arm in a fall the year before, and when he quizzed Spenser about it, Byron learned Margery had ALS.
As she ailed, Margery repeatedly refused to move to an assisted living facility and dismissed the home health aides her sons hired. Byron urged his brother to take their mother into his household, but Spenser declined, so Byron moved her to Grand Junction.
Hannah cared for Margery herself with professional assistance. She and Byron outfitted a room with increasingly sophisticated medical equipment so Margery could remain with the family. Recently, Byron has engaged a hospice service for her.
---