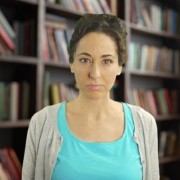 Jillian Ross bio
Jill was born on September 13, 1984, to Joe and Maude Ross in Kansas City, Missouri.
Joe and his brother, Ray, were both attorneys, and they ended up marrying sisters, Maude and Midge, who they'd originally hired as administrative and paralegal staff. The couples wed in a double ceremony, bought houses in the same subdivision, and did everything together—except for starting a family. By the time Maude became pregnant, a bout with cancer had ended Midge's ability to have children.
When Maude's contractions started, the two couples headed out to the hospital, eager to greet the newest family member. As they approached a railroad crossing, the signals indicated an approaching train. Nervous father-to-be Joe decided to beat the train rather than delay his wife's arrival at the hospital. They almost made it, but the train clipped the backend of Joe's car. All of the adults died at the scene, but EMTs were able to save the baby.
The only remaining relative was a cousin, Sheila Ann Ross, who lived in Oxford, Mississippi. Sheila welcomed the infant into her home and called her Jillian, the name Joe and Maude had picked out. Jillian was the beneficiary of both her parents' and her aunt and uncle's estates, so she was well provided for financially. Sheila took care of everything else, raising Jillian as her own and telling her all about her parents and her aunt and uncle.
Jill was always eager to hear stories about the parents she never knew, and whenever the subject came up, she asked question after question until Sheila finally begged her to save some for the next time. The more Jill learned, the more resolved she became to follow in their footsteps and go into law.
In school, Jill was a dedicated student and made the honor roll every semester in high school. She actively participated in academic clubs and extracurriculars, serving as an officer in several of those organizations. She graduated from high school as valedictorian and was voted "Most Likely to Succeed."
She considered attending one of the Ivy League schools that had accepted her, but in the end, she decided she didn't want to be so far away from her beloved Aunt Sheila. She opted to go to Vanderbilt University instead, and then returned to Oxford for law school at Ole Miss.
After passing the bar, Jill joined a local civil law firm, where she worked for five years and learned the ins and outs of the Yoknapatawpha County legal community. Over time, she realized she wanted more from her career than resolving business disputes and negotiating real estate deals. Even though it meant giving up her partnership prospects and starting over at the bottom, she went to work for the district attorney's office.
When Jill turned 25, she received an inheritance from her parents' estate, which eased the financial strain brought on by her switch from private practice to the DA's office. She used some of the money to buy a home on Elm Street and invested the rest.
After Jill had been a prosecutor for a few years, the District Attorney decided to retire, and Jill launched her campaign to replace him. She lost the election to Spenser Brooks, who asked her to stay on and succeed him as Senior Assistant District Attorney. The two had never been close friends, but they each recognized and respected the other's legal talents, so Jill accepted the promotion.
---