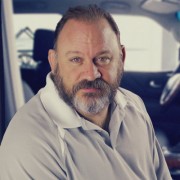 Richard Brown bio
Richard Atticus Brown was born to Atticus James Brown and Monica Luise Grunther on February 12, 1973, in Oxford, Mississippi. The oldest of four children and the only boy, Richard was the apple of his father's eye from the very day he was born.
Atticus Brown expanded his father's furniture-making business and opened additional stores in nearby towns. The Brown family business boomed, and with it, the Browns' influence in Mississippi. Atticus and Monica often entertained special guests from the state, including the governor on several occasions.
At each of these functions, Atticus paraded his son in front of everyone and proclaimed Richard's accomplishments in the classroom and on the football field. Behind closed doors at these functions, he often boasted to the men over a cigar and brandy about Richard's many conquests off the field as well.
Atticus groomed Richard to run the family business someday and taught him how to expand the company and make it even more successful.
Several universities, including Ole Miss, offered Richard a spot in their football teams, but Richard turned them all down, claiming he was tired of being a pawn of coaches who only wanted to further their careers.
While Atticus was disappointed that Richard abandoned his football career, he was pleased that Richard gave all his attention to his studies and maintained a perfect 4.0 GPA at the University of Mississippi. He was also president of his fraternity and was popular with the ladies, but he never found one he wanted to call his wife until he met Lauren Fennelly.
One day, Richard saw Lauren at a gas station and, struck by her beauty, followed her to a recital. When it was over, he introduced himself and learned she offered piano lessons. Richard immediately developed an interest in the piano.
After several lessons with Lauren, Richard asked her out. Much to his surprise, she refused, which only increased his interest in her. He continued to ask her out until she finally agreed. After dating briefly, Richard proposed, and they quickly married.
Richard's parents were not thrilled with the match because they saw Lauren as a gold digger. While Richard vehemently defended Lauren to his parents, close friends say he confided that secretly he sometimes wondered the same.
When Lauren gave birth to their son, Cody, Richard hoped for a clone, someone he could train to be the future king of the Brown empire. However, Richard grew frustrated when Cody didn't seem to grasp things as quickly as Richard had hoped.
Lauren's daughter, Katy, from a prior relationship, however, was everything Richard could want in a child. As Richard spent more and more time with Katy, he started training her to be the future owner of the business.
Richard spends long hours at the business, and Katy could often be found at his side. Richard bragged that one day Katy would make the Brown family business more successful than it had ever been before.
---