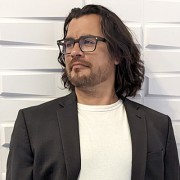 Hoyt Biffle bio
Hoyt Biffle was born on August 8, 1986, in Longview, Texas. His parents, Lloyd and Nora Biffle, worked at Eastman Chemical, the largest employer in the area during the 1980s. Hoyt's fraternal twin, Hattie, died of a heart condition shortly after birth. The pain of Hattie's death was so great for Nora that she vowed never to have another child, a wish that Lloyd respected.
Hoyt grew up alone but not lonely. As a youngster, he was the center of the neighborhood—the star of his little league baseball team, the charmer of every girl-next-door, and the instigator of more than his fair share of pre-teen hooliganism. His gregarious nature served him well at Spring Hill High, where he was popular with his classmates and teachers alike. He participated in track and field, basketball, and theater, though he was more interested in being part of a team than striving to succeed at anything. His just-above-average grades served him just fine.
Without stellar SAT scores, Hoyt applied to the University of Texas at Tyler and was accepted on the recommendations of his teachers in 2004. There, he pursued a major in the Computer Information Systems program, mainly at the behest of Alden Puckett, UT Tyler's CIS program coordinator, who had convinced young Hoyt that computer networks were where the money was.
Hoyt was surprised to discover that he was a talented coder and liked the work immensely. On graduation, he immediately got a job with Trane Corporation as a systems analyst. Since Trane's offices were in Tyler, Hoyt kept a personal relationship with his mentor, Alden, who began to encourage Hoyt to explore how far his talent could take him.
In 2011, Hoyt, Alden, and another hacker, Ezekiel Evans, were arrested on charges of identity theft, breach of internet security, and a host of other computer-oriented crimes. The men contested the allegations, and when the charges were dropped for lack of evidence, the trio parted ways.
Hoyt found himself in Alexandria, Louisiana, working on medical data systems at Christus St. Frances Cabrini Hospital from 2011 to 2013. Then, for the next two years, he worked on meteorological software behind the scenes at KTBS 3 News in Shreveport. A friend at the TV station connected him with the production company shooting the new reality TV show Duck Dynasty in West Monroe in 2013. He joined the crew as a production assistant later that year. When Duck Dynasty ended, Hoyt stayed on to work on the spinoff shows until they, too, came to an end.
In the waning years of the show, Hoyt rekindled his friendship with his old mentor, by then living in Oxford, and began visiting Alden in Mississippi. Those frequent trips also sparked a relationship with Birdie Tarver, an Oxford local, with whom Hoyt would have a child, Harrison, in 2018.
By 2020, Hoyt was looking for a new challenge in his career. He decided to combine his computer networking chops and reality television experience to create a new brand of adult reality entertainment, and what better place than a college town?
After moving to Oxford, Hoyt purchased a house near Ole Miss to host young adults willing to trade rent for the 24-hour surveillance of their lives—the more private, the better—which Hoyt would stream on the internet. Hoyt's new enterprise met with the immediate ire of some of Oxford's residents, who were appalled that the city council would approve the endeavor and responded with quasi-permanent pickets of Hoyt's venue.
---