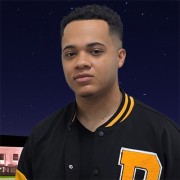 Wyatt Yancey bio
Wyatt Richard Yancey was born on November 11, 2003, to Mark and Cecile Yancey. Wyatt had two brothers who were twins and four years older. Cecile had been hoping for a girl, but when Wyatt was born, she had her tubes tied.
Both Mark and Cecile were employed by the Yoknapatawpha School District. Mark was a custodian, and Cecile was a cafeteria worker. Money was very tight. Wyatt's brothers were active and intelligent and required special supervision. When the twins were eight, and Wyatt was four, Cecile had the children's IQs tested. The twins' IQ measured around 125, while Wyatt's measured around 80.
Wyatt struggled with academics throughout school, which was especially difficult because his brothers were academic superstars, and his parents worked for the school district. Wyatt spent two hours after school each day studying with some tutor or another. He always managed to pass his classes and promote up through the grades.
In sixth grade, Wyatt discovered his athletic ability. He was especially good at soccer and baseball. His talent got him attention on and off the field, and by the time he was in high school, coaches were making sure Wyatt got either the tutoring help he needed or some extra credit points to pass.
Wyatt had no intention of pursuing education past 12th grade. However, during the second semester of his senior year, Wyatt was recruited by the baseball coach at Northwest Mississippi Community College, where he would receive a partial athletic scholarship. Wyatt jumped at the chance to continue to play ball.
By the summer of 2021, Wyatt didn't want to live at home but couldn't afford housing. One of his high school buddies told him about a place where he could live for free, as long as he didn't mind being on camera 24/7 or commuting to school from Oxford. Wyatt had no issues with modesty and didn't mind the drive, so he applied and was accepted. After two weeks of living at Under Glass, Wyatt began bodybuilding.
Soon after Wyatt moved in, he and housemate Shiloh Bates started hooking up. By Halloween, the two were an exclusive couple and Under Glass fan favorites. Wyatt's grades began to slip, but he had a friend who produced a realistic-looking report card to submit to the house owner, so it appeared that Wyatt was maintaining a decent GPA.
Shiloh stopped wanting to be on camera when Wyatt and she were having sex, so they started sneaking off occasionally, even though it was a rules violation. The owner, Hoyt Biffle, reminded Wyatt and Shiloh that they'd be evicted if they continued, but Shiloh was confident their fan-favorite status would protect them. In August 2023, Wyatt and Shiloh got their final warning from the owner, which the couple didn't take seriously. Biffle kicked both of them out at the end of September.
---