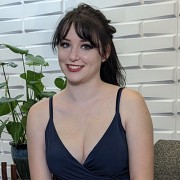 Mackenzie Collins bio
Mackenzie Collins was born in Hattiesburg, Mississippi, on May 3, 2004, to Shawn and Jill Collins. Shawn was an adjunct lecturer at the University of Southern Mississippi in the Political Science Department. Jill is a radio producer for WXRR Rock104 in Hattiesburg.
Mackenzie was the youngest of the Collins' three girls. Mackenzie's oldest sister, Aspen, born in 1995, was the family bookworm. Aspen loved her little sisters, but her ambition to be a doctor consumed her every moment growing up. By the time Mackenzie was coming of age, Aspen was already starting her first year at Johns Hopkins University.
Piper, born in 1997, was a teen prodigy on drums, and her indie rock band Ash Over Snow opened arena shows for large acts like The White Stripes and Queens of the Stone Age in the late 2010s. By 2020, Piper was working in radio with her mother.
Mackenzie was a late arrival, her parents' last shot at a boy. Jill was hoping more than Shawn, who was content with his three girls and heaped lavish attention on his youngest, who he called 'Little Mac' since he first set eyes on her.
In 2018, Shawn Collins was killed in a late-night car accident outside Hattiesburg on Highway 59. When his rescuers opened his crumpled vehicle with the Jaws of Life, they found that Shawn wasn't alone. Third-year poli sci major Becca Landis survived the wreck, though without the use of her legs.
Becca admitted to an affair with Shawn and told police that the accident was due to Shawn's overindulgence in drinking that night. The coroner found Shawn's blood-alcohol content measured 0.21.
With the loss of Shawn's income and Aspen's medical internship bills wearing the family thin financially, Jill was forced to take on a second job. Mackenzie, at 14, came to the realization that she would spend her teenage years mostly alone and lonely. She was devastated that her beloved father had put their family in such a state.
Mackenzie threw herself into her high school studies, determined to do what she could to better herself like her sisters so she wouldn't be a burden to her mother. To be studious was also a means to forget. Her dedication paid off when she was ranked third in the Hattiesburg High School Class of 2022.
Mackenzie was awarded the Victoria Gray Adams Scholarship from the Coalition of Voices United, a civil rights organization in Hattiesburg, which provided $1,500 a year for study in a social activist field. Mackenzie went to Ole Miss to become a public defender.
Finding that her scholarship wasn't nearly enough to keep her in school, she searched for a job in the first weeks of her first year. She found Hoyt Biffle, who promised a wage with free room and board at Under Glass in exchange for her sexy law student presentation. If it meant that she wouldn't have to ask her mom for money, she decided she would do it.
---