Sam Tuttle bio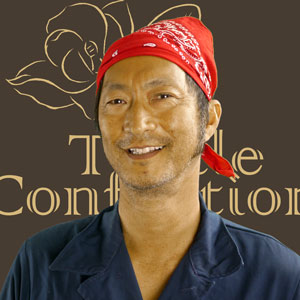 Samuel Bradford Tuttle was born on July 4, 1973, to Greg and Jessica Tuttle. The Tuttles owned and operated a small grocery store on the south side of Oxford. Greg worked in the store from 7:00 in the morning until 7:00 at night, and then Jessica worked until midnight. Whichever parent wasn't watching the store watched Sam, fondly known to his adoring parents as Uncle Sam.
Four years after Samuel was born, Jessica gave him a baby sister. Patricia died in her sleep when she was six months old, and Sam remained an only child.
Probably because of his time in the store and a desire to emulate his parents, Sam learned the practical basics of reading and arithmetic earlier than his peers. When he entered the first grade, he could already complete assignments that his classmates would still be struggling with when the school year ended.
Bored, Sam became the teacher's assistant but escaped being labeled the teacher's pet by helping the other children with their lessons. Making strategic gifts of penny candy and gum from the store probably didn't hurt matters either.
This pattern continued throughout his school years. Records indicate that Sam was a bright child who volunteered for leadership positions that allowed him to help others during normal school hours. Sam did not become involved in sports or other extra-curricular activities because they conflicted with his responsibilities in the family store.
During his first year of high school, disaster struck in the form of a new supermarket. The Tuttle grocery store staggered along for eighteen months before Greg and Jessica closed their doors.
Greg took a job as the Meat Manager at the supermarket that drove him out of business. Jessica stayed home and drank.
Sam juggled several part-time positions around his schooling and put every penny he earned into the bank. By the time he graduated from high school with a focus on both business and cooking, he had saved enough to open his own store, Tuttle Confections.
His parents hadn't been able to compete with supermarket pricing, and now the supermarket couldn't compete with his high quality chocolates. Rather than waiting for customers to stop in, Sam wooed the wealthy and elite who were willing to pay top dollar for unique confections.
When the fancy multi-layer cake was cut to celebrate the one year anniversary of the business, Sam was clearing more in a week than his parents had made in a month with the grocery store.
Unwilling to rest on his laurels and fearing that a competitor could appear and destroy him overnight, Sam expanded his selection to entice those who wanted to be wealthy and elite. The chocolates may not have been as large, but the taste was pure Tuttle and the signature Tuttle Confections box meant more to some people than whatever was contained inside.
Sam looked around for a suitable promotional tool and found just the right mix in beauty pageants. Even more than putting his name out in front of people who wanted to improve their lot in life, he could actually help someone do exactly that.
Sam decided to sponsor Barbara Dubois, already making a splash in pageant circles at age six, and was once again Uncle Sam. He paid for costumes and makeup, sitting fees and consultants, dance lessons and personality training. He became a mentor and close family friend to Barbara and her widowed mother, Susan Dubois.
The successful team racked up multiple wins until 2014, when Susan Dubois suddenly informed Sam that she was switching to a new sponsor, Platinum Chocolates. Platinum was a direct competitor of Tuttle Confections, fresh to the area and cutting into his business by offering a lesser product with a flashier presentation.
Sam honored his contracted commitments to Barbara and then withdrew his support and interest from the Dubois family. Two months later, his mother slipped into a diabetic coma and died. His father took his own life shortly thereafter.
At the annual Candymaker Conference and Trade Show this past January, Sam and Jacques Amor, the owner of Platinum Chocolates, came to blows during an elevator ride to the hotel lobby. Neither man was hospitalized, and no charges were pressed after the men agreed to pay for the damages to the elevator car.
Despite an experience that must have left a bitter taste in his mouth, Sam continues to involve himself in the world of beauty pageants, perhaps seeking a rising star who desperately needs his help.