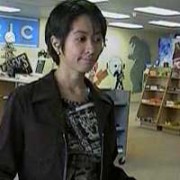 Stephanie Woolworth bio
Stephanie Woolworth was born in Baltimore, Maryland, on April 11, 1993, in a large extended family. Her father was a brick mason, and her mother managed a department store. Stephanie has a younger brother, Mason, who is 17 and still lives in Baltimore.
Stephanie went to college in Nashville, where she studied music for two years before dropping out. She tagged along with a friend who toured with The Offspring, one of whose members she allegedly dated for some time. However, the straight life wasn't for Stephanie. She left the Offspring tour and took up with a caravan of bisexuals who traversed the country in search of themselves.
Woolworth's search for an identity led her to Oxford in 2017. She quickly became friends with Callie Shivers, and soon joined Shivers and two other girls, Elke Seghers and Lola Cox, in Oxford's first and only all-girl punk rock band, Kitten Sack.
Today, she works at The End of All Music and plays bass in Kitten Sack.
---
$ 44.00 A real print kit, fully stocked with instructions and enough supplies for at least 50 different print lifts. Shop Now

$ 30.00 – $ 33.00 Jackets feature a detective shield printed in white on the front and FORENSICS in large white type on the back. Shop Now

$ 25.00 $ 16.00 A wall chart illustrating common fingerprint comparison characteristics. Shipped in a protective cardboard tube. Shop Now

$ 44- 54 explores a different crime scene processing technique each month. Shop Now

$ 8.00 Contains 2 of each size paper and plastic bags (large, medium and small.) Use for real evidence or fun. Shop Now

$ 25.00 $ 22.00 Create a professional crime scene sketch quickly. Shop Now

$ 4.50 – $ 150.00 The standard FBI fingerprint card, form No. FD-258 version: 11-1-20 used for noncriminal fingerprinting Shop Now

$ 8.00 $ 7.00 This sturdy, bright yellow lanyard printed on both sides with "CRIME SCENE DO NOT CROSS" in black letters. Shop Now

$ 75.00 $ 60.00 Examine the evidence to solve a murder. Dust evidence for prints & test fabric for the presence of blood. Shop Now