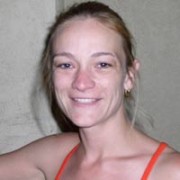 Callie Shivers bio
Callie Shivers grew up an ardent fan of punk rock in White Plains, N.Y. The youngest of four daughters, she was born prematurely on June 30, 1991, to her parents, Ben and Rachel Shivers. When Callie was four years old, her father was arrested on embezzlement charges and spent seven years in prison. Her parents divorced when Ben was released.
Growing up with three sisters and a single mom, Callie was bound to rebel. At 15, Callie came out to her family, telling them she didn't want to lie about who she was, and she did little to disguise her feelings with anyone else in her life. Her sisters were embarrassed by what they called Callie's "flamboyant" and "aggressive" behavior, while their mother struggled to come to terms with her youngest daughter's sexuality.
In 2009, Callie left White Plains and moved to New York City, where she met people who interested and encouraged her in the artistic community. She began playing guitar but met with little success. While in New York, she met a seemingly perfect life partner. They moved in together, but Callie was jilted. She spent the next several years traveling the Eastern seaboard.
She came to Oxford in 2013, where she fell in love with the land. She rented a house in Yocona with several newfound friends, and she lives there today. In 2014, she and her all-girl punk rock band called Kitten Sack set out on a tour of music festivals and small venues across the country.
In June of that year, she met Laurie Daniels while at the Bonnaroo Music Festival in Manchester, Tennessee. The two quickly developed a close friendship, and Laurie became a kind of roadie/promoter, traveling with Callie and the band as they played countless gigs, abused plenty of drugs, and defaced their bodies in various ways. In May of 2015, Callie and the band returned to Oxford to work on their next album, but Laurie didn't come with them.
Kitten Sack continues to play local and regional gigs, and they still tour occasionally. The band throws a wild party at their home in Yocona at least once a month.
---
$ 4.50 – $ 150.00 The standard FBI fingerprint card, form No. FD-258 version: 11-1-20 used for noncriminal fingerprinting Shop Now

$ 25.00 $ 22.00 Create a professional crime scene sketch quickly. Shop Now

$ 30.00 – $ 33.00 Jackets feature a detective shield printed in white on the front and FORENSICS in large white type on the back. Shop Now

$ 44- 54 explores a different crime scene processing technique each month. Shop Now

$ 8.00 Contains 2 of each size paper and plastic bags (large, medium and small.) Use for real evidence or fun. Shop Now

$ 8.00 $ 7.00 This sturdy, bright yellow lanyard printed on both sides with "CRIME SCENE DO NOT CROSS" in black letters. Shop Now

$ 44.00 A real print kit, fully stocked with instructions and enough supplies for at least 50 different print lifts. Shop Now

$ 25.00 $ 16.00 A wall chart illustrating common fingerprint comparison characteristics. Shipped in a protective cardboard tube. Shop Now

$ 75.00 $ 60.00 Examine the evidence to solve a murder. Dust evidence for prints & test fabric for the presence of blood. Shop Now