Mannequin Murder Contest winners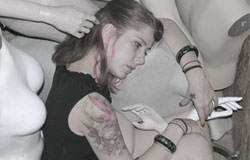 Mannequin Murder Caption Contest winners
The voters selected the caption "A tragic end to a life leaving a young lady lying among mannequins." as their favorite. Claudia submitted that entry, and she wins a one-year Crime Scene membership.
The caption contest runner-up, John Taylor, wins a $10 Crime Scene coupon* for his caption "I'm a barbie girl, in the barbie world. Life in plastic, it's fantastic! you can brush my hair, undress me everywhere. Imagination, life is your creation."
Mannequin Murder Whodunit Contest winners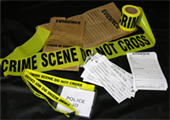 The viewers chose "Overdose" as the best theory, and it was submitted by Claudia (who is having a good week at Crime Scene). For coming up with the top theory, Claudia wins the Crime Scene Marking Kit, which includes crime scene tape, evidence labels and toe tags so Claudia can mark off her own crime scene.
The Whodunit Theory Contest runner-up, kirsty, wins a $10 Crime Scene coupon* for her theory, "Romeo and Juliet."
Congratulations to all the winners! Information on how to collect your prizes will be sent to the email address you submitted with your entry.
* Crime Scene coupons can be used on Crime Scene store purchases or on Crime Scene memberships.
---
$ 25.00 $ 22.00 Create a professional crime scene sketch quickly. Shop Now

$ 25.00 $ 16.00 A wall chart illustrating common fingerprint comparison characteristics. Shipped in a protective cardboard tube. Shop Now

$ 8.00 Contains 2 of each size paper and plastic bags (large, medium and small.) Use for real evidence or fun. Shop Now

$ 75.00 $ 60.00 Examine the evidence to solve a murder. Dust evidence for prints & test fabric for the presence of blood. Shop Now

$ 44- 54 explores a different crime scene processing technique each month. Shop Now

$ 8.00 $ 7.00 This sturdy, bright yellow lanyard printed on both sides with "CRIME SCENE DO NOT CROSS" in black letters. Shop Now

$ 44.00 A real print kit, fully stocked with instructions and enough supplies for at least 50 different print lifts. Shop Now

$ 4.50 – $ 150.00 The standard FBI fingerprint card, form No. FD-258 version: 11-1-20 used for noncriminal fingerprinting Shop Now

$ 30.00 – $ 33.00 Jackets feature a detective shield printed in white on the front and FORENSICS in large white type on the back. Shop Now